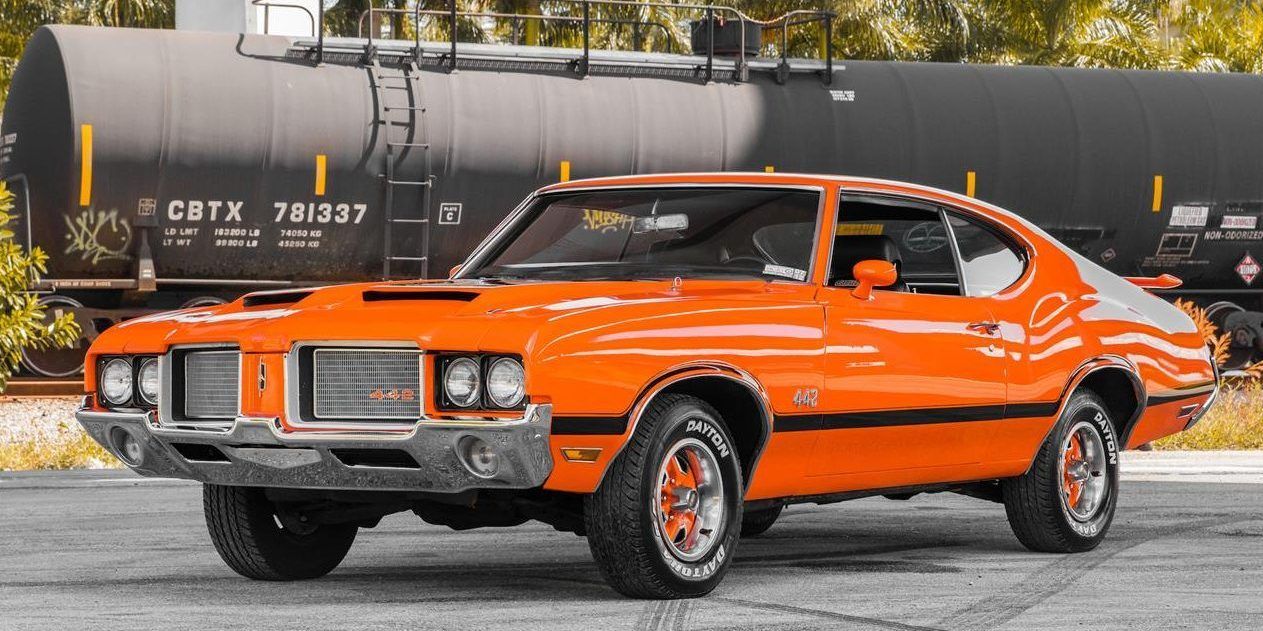 These Cheap Muscle Cars Are Still Incredibly Cool
Gearheads always seem to opt for the ones that consistently grab the headlines, like the Mustang, Corvette, and Dodge Hemi monsters. Unfortunately, they are highly sought after in collectors' markets.
What are gearheads supposed to do if they can't afford to get their hands on one of these muscle cars? Maybe take out a second mortgage on the house, or for most of us, we can sit back and admire the cars people have put their hearts and souls into.
There is, however, a third option. There are a number of cool muscle cars we can still find for under $10,000, and a few even for under $5,000. Let's take a look and see what we can discover there.
11
1965 Ford Falcon 2-Door Coupe
The 1965 Ford Falcon is a muscle car at heart. It's a car that was overshadowed by the Mustang, even though the iconic muscle car was based on the same unified chassis. The Falcon comes with a 2.3-liter straight-six, but they're easily swapped out for a small V8. All muscle in appearance but needs a little help under the hood.
The advantage of getting a car that needs a little help is that even if it is a classic, it can be found quite cheap. In raw condition, this car can be picked up for around $5,800, with the car in average condition costing less than $10,000.
Related: We Can't Stop Staring at These Incredibly Modified Ford Falcons
ten
1971 Ford Torino 2-Door Coupe
The Ford Torino was one of the true muscle cars of the era, and as such the versions that came with the Cobra Jet engine are collectibles that can fetch higher prices than we want to consider here. The base model of the car featured an inline-six, but it had the option of being upgraded to a small V8. They are the ones to look for.
These particular versions of the car can be had for around $4,650 for those with the 250cid under the hood and those with the V8 for around 10K. Those in good shape can go for double, but if they're willing to put in the time for this classic, they can turn into a handsome beast.
9
1972 Oldsmobile Cutlass 2-Door Coupe
Any gearhead worth their salt has heard of the infamous 4-4-2, which is a collectible beyond the scope of this list. Oldsmobile was also well known for its line of engines called "Rockets", which can be found on the cheap if the current owner doesn't know the difference.
Here we are talking about the base model that comes with the average 350cid engine. The engine that has so much potential. These cars can still be found in poor condition for less than $5,000, but one in good condition will cost around $8,600. Anything in better condition will cost a bit more, but there's nothing stopping us from building one our way.
8
1980 Chevy Malibu Classic Sport
This is another mid-size Chevrolet that comes with a variety of engines, the most common being the 3.8-liter V6. This engine was underestimated by many muscle car enthusiasts, and even today it is despised. It's actually a six-cylinder with some muscle, but the car has plenty of room to put a bunk under the hood.
The 1980 Malibu can be found very cheaply in poor condition, with the base 4 doors almost given away. For the Classic Sport, however, you can expect to pay less than $2,500 for one in poor condition, while the average selling price is $4,625. This car is a very cheap way to own a muscle car that has so much potential.
Related: Malibu Sleeper Makes It Easy For The Modern Corvette And Challenger To Drag Strip
seven
1983 Buick Regal 2-door
In 1983 the Buick Regal added a turbocharger to the stock V6 which was hidden under the hood. It was a concept that hadn't quite taken off yet, so very few of them were produced. If found, they can be worth a substantial sum of money, if the owner knows what they have. Otherwise, the car came with a base 231cid engine, unless the original buyer opted for a small-block V8.
When looking at the value of this car, various sites list it as possible for under $2,000, but the price for an average car that can still drive is around $8,100. These great cars perform out of this world, but have the potential to be so much more.
6
1990 Ford Mustang 5.0 LX Coupe 2-Door
We all know what a Ford Mustang is. It's one of the most iconic muscle cars of all time, alongside names like the Camaro and Challenger. Many of these cars are out of reach for what we're looking for, but the 1990 5.0 is one that can still be found at a reasonable price. Fox bodies were not as popular as the original styles, or even the new ones.
Sites claim that in poor condition, this car can be had for less than $3,000. The average cost of a running 'Stang is around $6,000, as a 2-door LX coupe. With luck, a higher trim level on the line can be found for less than ten grand.
Related: Here's how the Ford Fox Body Mustang generation compares to others
5
1996 Chevy Corvette 2-Door Coupe
There's nothing more iconic than a Chevy Corvette. Although not a reducer, the name is as common as apple pie, but not as accessible. Most of these sports cars that can be muscled are outside the price ranges set for this list. In 1996, two additions were made to the 'Vette lineup, so the base model was shelved, for the most part.
A 1996 Corvette in mint condition is too much for our blood here, at over $25,000. On the other hand, those of us who aren't afraid of a job can find a bad one for about six thousand. A working one is valued at just $8,000, which is well within the stated range. Especially when it comes to owning one of the biggest icons of any decade.
4
2002 Chevy Camaro 2-Door Coupe
Another Chevy muscle car that might seem out of place on this type of list is the Camaro. Much like the competitors, however, the majority of the base cars were V6-powered, the stronger small blocks were optional. The smaller motor has plenty of power and speed for most of us, but there's always room for improvement.
The 2002 Chevy Camaro, at the lower end of the spectrum, can be found nationwide for less than $5,000. An average vehicle that can be driven daily will fetch over $8,300. Not a bad investment for a muscle car in today's world.
3
2008 Pontiac Grand Prix Sedan 4-Door
The 2008 Pontiac Grand Prix 4-Door may surprise some, but anyone who's driven one knows that the stock 6-cylinder has decent power. When it comes to driving at high speed on a curved course, this car can outperform many sports cars, especially when a few modifications are made.
This car can be found at very reasonable prices. Bottom barrel project cars can be found for less than $2,000, and one in good condition can be grabbed for less than $5,000.
Related: Here's How The Pontiac Grand Prix GTP Symbolized The Evolution Of Performance
2
2010 Dodge Charger Sedan 4-Door
Over the years Dodge has produced some amazing cars. From the Hemi to the street beating Hellcat, and every engine in between. No list would be complete without mentioning this automaker. Fortunately, there is a muscle car that can be had for less than ten thousand dollars.
One of the most iconic cars of the past has hit the streets again. A 2010 Dodge Charger with a V6 can be found in poor condition for less than $3,000. A well-running car in average condition can be found for around $6,675, with various locations offering slightly higher prices.
1
Final Thoughts
These cool cars are on tap, with values ​​under $10,000. They can be found all over the country in different price ranges, but when you're considering a muscle car option, they're all worth looking into. A few of them are even iconic cars synonymous with racing and power. There's no need to put them to the test unless the itch strikes, though. The problem is that when looking at rigs in these low price ranges, speed demons won't be found very often. With a little time and love, they can be built into cars that can hold up on any tarmac.
Here's How Much These '80s Automotive Icons Cost Today
Each of these classics is decidedly '80s and iconic in their own right, but not all are equally desirable today.
Read more
About the Author