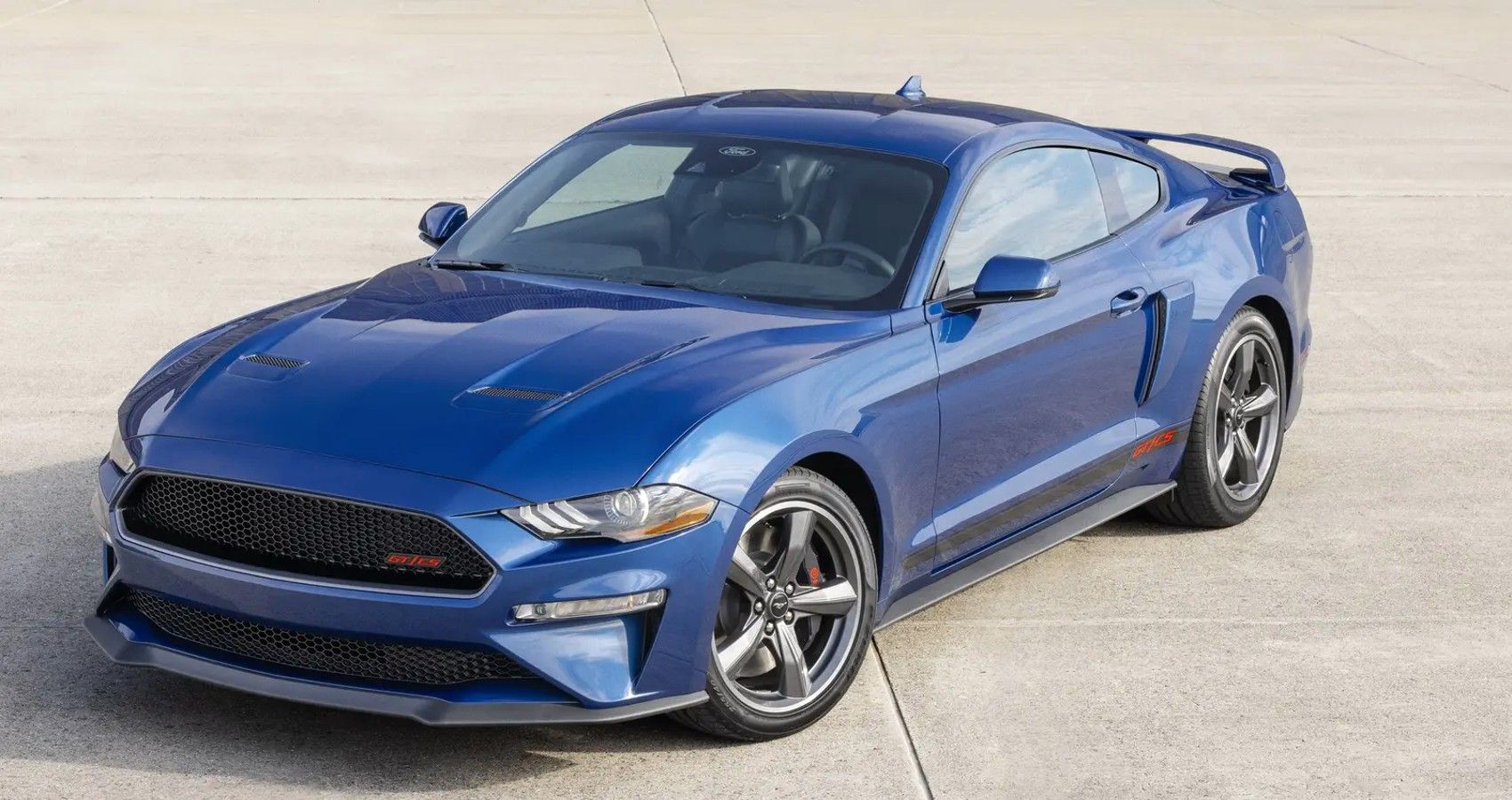 The 2022 Ford Mustang California Special fuses muscle power with retro looks
As you all know, Ford took the Mustang nameplate on a peculiar journey that no one saw coming. The Mustang is now available as a family EV crossover in the Ford Mustang Mach-E. The Mach-E is completely different and drives like no sporty Mustang before.
The first Mustang was launched in 1964 and over the years this muscle car contributed to the no frills muscle car formula that was all about the rumble of the V8. But that's not true, because the 2022 Ford Mustang California Special harkens back to the good old days, and the Blue Oval hasn't forgotten about real blue muscle cars.
We'll tell you how Ford managed to marry classic looks with quintessential muscle car performance.
Related: How Ford is making the American dream a European reality with the new Mustang California Special
Ford Mustang California 2022 V8 Rumble Special Packs
The 2022 The Ford Mustang California houses a massive 5.0-liter V8 engine that can produce 450 hp and 420 lb-ft of torque effortlessly. With the 2022 Ford Mustang California capable of churning out power like nothing, its top speed is 155 mph. Traditional Mustang noise and performance have been added to this Mustang California, giving it enormous appeal. There is an option of a six-speed manual transmission or a ten-speed automatic transmission.
While both drivetrains are impressive, there are a few differences regarding drivetrain and performance. Along with the six-speed manual transmission, there's an integrated rev-matching system that delivers effortless shifting and a much sought-after sports car feel. In a straight line, the six-speed manual Ford Mustang California can reach 0 to 100 km/h in just 4.8 seconds. Within the ten-speed automatic Ford Mustang California, numerous driving modes are available such as normal, sport, track or rain to optimize performance.
In the version with automatic transmission, the 0 to 100 km/h can be reached in a slightly better time of 4.4 seconds. While the automatic and manual transmission versions of the 2022 Ford Mustang California are surely flawless to drive and to look at; They also include some new features. A very impressive new feature is 'good neighbor mode' which automatically limits exhaust noise to pre-programmed times of the day. Traction and cornering are executed fantastically in the 2022 Ford Mustang California by a limited slip differential.
Since the new Mustang California is equipped with a MagneRide suspension system, it gives you a great thrilling yet comfortable ride. However, arguably one of the most innovative technologies made available in the 2022 Ford Mustang California is the electronically controlled fluid that is released after the car monitors conditions a thousand times per second, in order to adapt resistance to the damping to driving conditions.
Related: Return Of The King: Watch The Crazy Bacteria 2.0 Nitrous Mustang At The Strip
The interior of the 2022 Ford Mustang California Special is plush and sporty
The beautifully finished, aggressive and spellbinding exterior design carries over to the interior. First, the interior is customizable with nine interior colors available, and a custom digital LCD instrument panel also available. Despite the choice of colors and instruments, the Ford Mustang California comes standard with an 8-inch touchscreen and a multifunctional steering wheel.
As you'd expect, both front seats are equipped with heating and cooling functions, while comfort continues with 'Mustang MyMode' to adapt to all weather conditions and provide a smooth and comfortable ride. Whichever color you decide to have inside your 2022 Ford Mustang California, all seats will be finished in suede trim with Mustang GT/CS logos stamped on the seats with contrasting red stitching.
Mustang logos will also appear on the suede-trimmed floor mats and door inserts. While the dashboard is customizable, all 2022 Ford Mustang California dashboards will be finished in hexagonal carbon aluminum and feature a "California Special" badge on the passenger side.
Related: Why The 2022 Mustang Mach 1 Should Be Driven By Every Real Gearbox
The 2022 Ford Mustang California Special is amazing
The 2022 California Special definitely restores muscle and aggressive feel by the name Mustang. The rear-wheel drive system is very advanced and leaves the Mustang with great dynamics. The amazing thing about the 2022 Ford Mustang California is that it is so heavily influenced by the original Ford Mustang California that came out in 1968.
This is highlighted by the blacked out grille, rear side air intakes and a subdued rear spoiler. Not only do these features look like the original, but they also significantly improve the aerodynamics of the car. Now, you'd expect to pay a premium price for such a quality car, but in reality, for a 2022 Ford Mustang California, you could pay as little as $67,290 for the manual transmission.
While the automatic transmission version will set you back $70,290 and the soft top versions will require extra money. A pretty large sum, but on the scale of things, the 2022 Ford Mustang California Special is worth every penny.
Related: How This YouTuber Added Over 300 HP To His Mustang GT
2022 California Special maintains old school vibes in performance as well as looks
Clearly, the 2022 Ford Mustang California has a lot of positives to offer. With many customizations and customizations available, it has massive classic appeal. The 2022 Ford Mustang California Special is available in both hardtop and softtop versions, which again appeals to a lot more people.
It's safe to say that the exterior design of the Ford Mustang California Special is very appealing, while the interior also follows in the footsteps of the exterior as very attractive. The powertrain doesn't let anyone down, it's powerful, aggressive and fast. In conclusion, it is more than obvious that the 2022 Ford Mustang California Special is as powerful as it looks!
Source: Ford