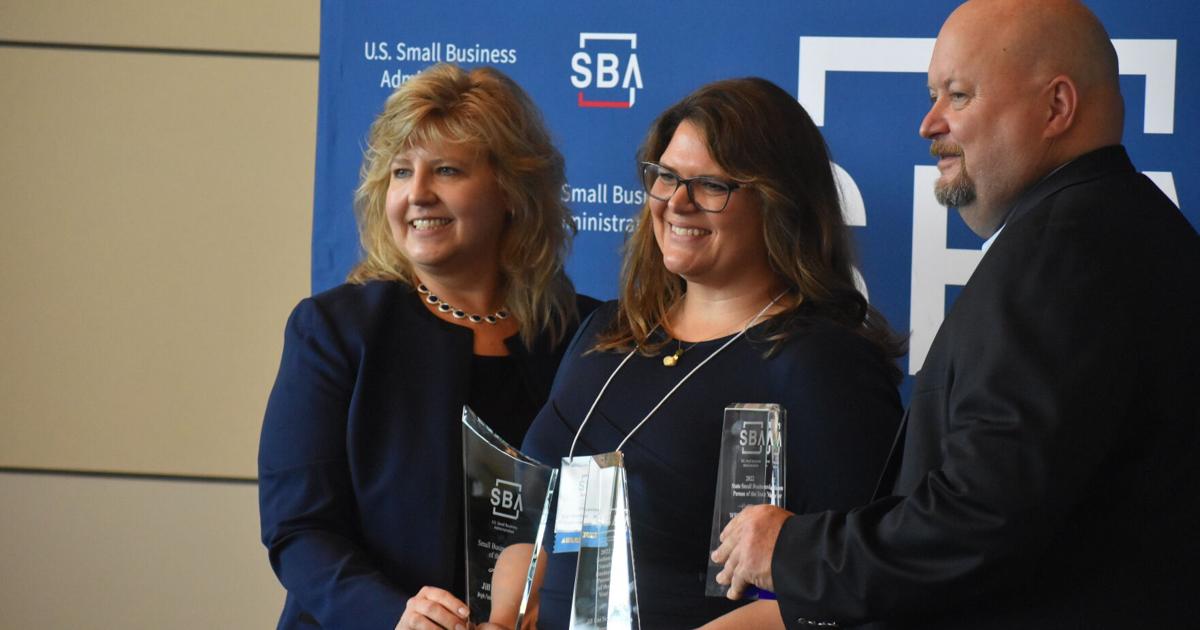 Small business owner honored for her passion for helping children | Business
FAIRMONT — For the first time in 60 years of awards, a West Virginia business owner has received the national Small Business of the Year award.
Each year, the US Small Business Administration hosts a series of awards across the country to honor the hard work and dedication of small business owners to celebrate Small Business Week.
This year, the West Virginia awards ceremony was held at the Robert H. Mollohan Center in I-79 High Tech Park. On Friday, business owners from the state, region and nation gathered to congratulate the state's winners, one of whom went on to earn national recognition.
In attendance were a series of high-level SBA guests, including Mid-Atlantic Regional Administrator John Flemming.
"Today is a celebration of small business and it's just one of more than 100 similar events happening this week across the country," Flemming said. "It's important to recognize those businesses that have survived the pandemic, it's amazing how they've done it. Many of them not only survived, they thrived.
The SBA is a government organization that specializes in helping small businesses and providing them with support when they need it. During the pandemic, the SBA has had its hands full distributing relief dollars and triaging more than 14 million requests for those dollars.
But among the West Virginia businesses surviving the pandemic was Jill Scarbro, owner of Bright Futures Learning Services in Winfield, W.Va. Her business is a private school for children with developmental disabilities, specifically the autism, which helps them prepare for public school and social interactions.
Scarbro has won Small Business of the Year at the state, regional and national levels, becoming the first West Virginia in 60 years of SBA awards to receive this honor.
"To me, winning the award is validation that a girl who has dyslexia and wasn't raised in a professional environment can still do great business," Scarbro said. "It's not just me, it's my wonderful staff and the SBA and all these people coming together to say, 'taking care of people is always good business.'"
At Friday's event, around 60 guests greeted Scarbro with a standing ovation as she rose to accept her three awards.
Bright Futures Learning Services has been in the eyes of the SBA for several years. SBA West Virginia District Director Karen Friel said the moment she first left the Scarbro facility, she knew this woman would go on to do great things.
"We knew she was going to make big changes, and at the time she didn't really understand the magnitude of those changes," Friel said. "She was coming to terms with the fact that she was not just an all-star ADA therapist, but would become something bigger by becoming an entrepreneur."
As a child with dyslexia, Scarbro recounted her experience at school as she struggled to learn to read during some of her most critical and formative years.
Without early intervention and specialist care, she would have quickly fallen behind her peers. Because of the special care she received, she dedicated her life to providing this gift to other families.
"I was incredibly lucky that my family was able to make this happen for me from a young age," Scarbro said. "Because of that, I knew I wanted to have that kind of impact for kids like me who just needed to be taught a little differently."
Other winners
Four other West Virginia companies were honored Friday for their work over the past year.
Kim Mack, owner of Cyclops Industries in South Charleston, won the state award for Small Family Business of the Year. His father and grandfather started a business making pressure-resistant windows.
Julie Zuercher, owner of Sparkle Janitorial Products in Morgantown, was named Woman-Owned Small Business of the Year. Zuercher shared the struggles she and her business faced financially at the start of the COVID-19 shutdown.
"My mantra is, 'just keep spinning.' When the going gets tough, find another way and find a way to keep pivoting," Zuercher said. "If you can find a way to do that as a small business owner, you will succeed."
Elizabeth Riffle, owner of Riffle Farms LLC in Terra Alta, was named Veteran-Owned Small Business of the Year. Riffle Farms raises, raises and slaughters American buffaloes in Preston County.
"I am so proud to represent other veteran farmers who have decided to make their service-related commitment to feed our nation," Riffle said. "It's also a wonderful opportunity to show what other female veterans can do outside of the military."
The final winner was Ken Thompson, owner of Mustang Sampling/Valtronics Solutions of Ravenswood. He was named Regional and West Virginia Exporter of the Year.
For more information on small business assistance, visit www.sba.gov.