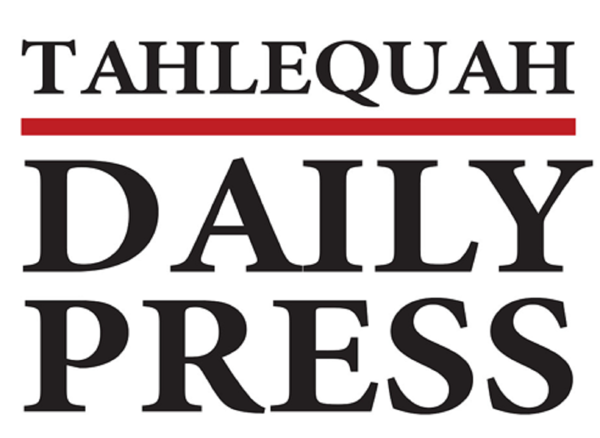 POLICE BEAT 4-24-22: Officer witnesses burglary in progress | News
Officers responded to several separate calls from thieves at local businesses, and one officer just happened to hear a burglary in progress.
On April 21, Tahlequah Police Officer Lane Cobb was on patrol when he spotted a Ford Mustang that did not have a working headlight. The officer stopped the vehicle and spoke with the driver, Jesse Fairfield, who said his driver's license had been suspended and he was unaware his insurance was. The dispatcher told Cobb that the man might be wanted and the vehicle's insurance was unconfirmed. Officer Robert Jones arrived to assist Cobb and noticed Fairfield repeatedly reaching for the passenger side of the vehicle. Jones said he could see Fairfield trying to hide a bag of drugs. Fairfield was detained and later arrested once sent confirmed warrants. Officers searched the vehicle and found a bag of marijuana, a packet of suboxone and an unidentifiable pill. Fairfield was rushed to jail and booked on tribal for defective vehicle, driving under suspension, no insurance, possession of marijuana, possession of a controlled hazardous substance without a valid script and his warrants.
Constable Thomas Donnell was called to the Tahlequah Terrace apartments on April 20 for an alleged trespassing report. The apartment manager said Dolores Smith was banned from another tenant's apartment because of threats to take her children away. Video footage showed Smith knocking on the tenant's door and asking the children to open it. Donnell said officers had already warned Smith to stay off the property or she would be arrested. Smith claimed she was called to go to the other apartment to give the child toilet paper. Smith was arrested for trespassing and rushed to jail.
On April 20, Constable Jones was patrolling the property of Betty's Mini-Storage when he heard the sound of metal rattling in one of the units. The unit had no lock on the door, and Jones found Dakota Wacoche standing on a dresser, trying to remove the screw from the top of the wall to enter the adjacent unit. Wacoche insulted the officer and claimed he was trying to get cover from the other unit. The landlord said Wacoche hadn't rented any of the units and wanted to press charges. Wacoche was convicted on tribal charges of second-degree burglary.
Officer Donnell responded to Walmart on April 16 to find Lucas Barajas arguing with employees outside the store. Employees said they observed the man hiding two PlayStation 4 charge cards under another item. Barajas failed to pay the cards and attempted to exit the store. Barajas was arrested for petty larceny and booked.
Jason Jones was arrested on April 19 for allegedly hiding items on himself at Walmart. Jones allegedly tried to hide two belts, a block of cheese and a packet of deli meats. sergeant. Justin Leatherwood made contact with Jones, who was holding a joint of marijuana in his hand. Jones was arrested for possession of marijuana, petty larceny and trespassing.