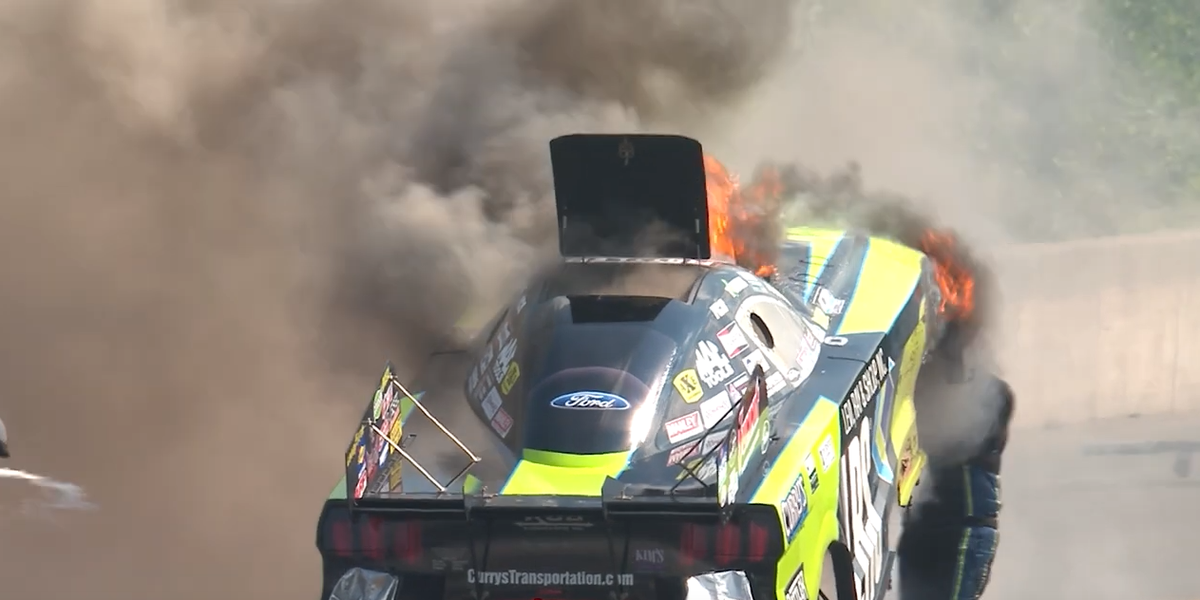 NHRA Funny Car's Tim Wilkerson Escapes Burning Funny Car
This content is imported from YouTube. You may be able to find the same content in another format, or you may be able to find more information, on their website.
Funny Car owner-tuner-driver Tim Wilkerson wanted to be hot for the championship countdown – but not the kind of "hot" he experienced in his semi-final win over John Force.
About halfway through the 1,000 foot course, Wilkerson's car began to smoke the tires. Then its engine failed, triggering a nasty fire that produced billows of smoke. Wilkerson escaped his car unscathed, partly angry at the damage and partly puzzled as to why the incident occurred.
"I don't know – it was going great, and I felt it drop, like, five holes [cylinders] immediately. So I'm sure it broke a crank[shaft] or something like that. He did something really bad. I don't know what happened yet," Wilkerson said. "We will find a solution. It's really annoying, because we don't do that kind of stuff.
Bob Tasca III's team helped the Ford driver and his crew repair and maintain the Levi, Ray & Shoup Mustang and prepare it for Wilkerson's 49th career finale and second of the year.
Wilkerson lost a chance for his first win since the 2021 fall race in Charlotte with a poor start.