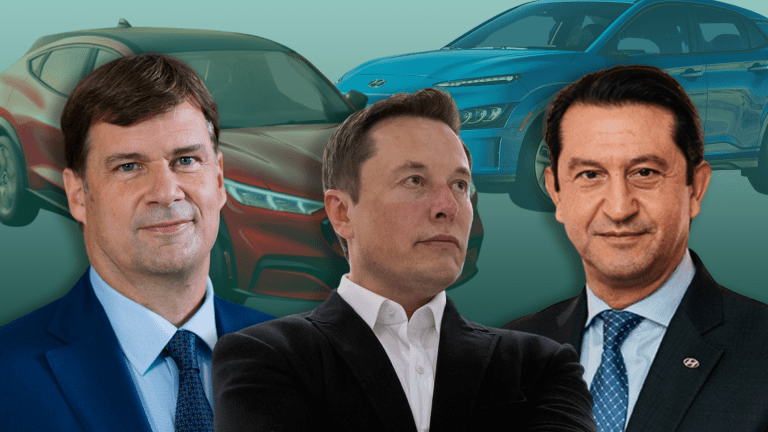 Legacy automakers aim to capture more EV market share from Tesla
You're here is still number one in the electric vehicle segment, but traditional automakers like Ford and hyundai are working hard to change that. With new models rapidly arriving and production ramping up, Tesla's position as the top maker of electric vehicles could be in jeopardy.
Tesla has four electric models currently on the market and still holds a dominant segment lead, with nearly two-thirds of new electric vehicle registrations in the first seven months of this year owned by the company, according to Experian.
However, traditional businesses and startups increased their share of new registrations through July by 56%. Twenty-two brands recorded a total of 134,644 registrations, totaling 34% segment share. Ford came second with 27,817 new registrations, and Hyundai took third place with 15,322 registrations, followed by KIA with a similar number.
Ford produces the Mustang Mach-E, whose number of registrations increased by 64% through July. The company also has the new Lightning F-150which had 2,679 registrations and is expected to boost sales in the second half of the year.
Meanwhile, Hyundai plans to introduce four new EVs in the United States by the end of 2022. The company's Ioniq 5 crossover accounted for 3.9% of the U.S. EV market share, while the Kia EV6 recorded 13,862 new registrations for a share of 3.5%.
According to EV subscription startup analysts Autonomy, Tesla's share of electric vehicles sold in the United States could fall below 40% by the end of next year. Chief analyst Jesse Toprak said Tesla's dominance will be "increasingly challenged" as the industry increases the number of competitively priced and equipped electric vehicles. Tesla's most popular offering, the Model Y, has a purchase price of $65,000. "This may cause some buyers to switch to other automakers in the future," Toprak said.
15 new electric vehicle models have been introduced to the US market since the start of 2021, including eight this year alone.
---
Did you enjoy this article? Please share your thoughts, comments or questions regarding this topic by contacting us at [email protected]