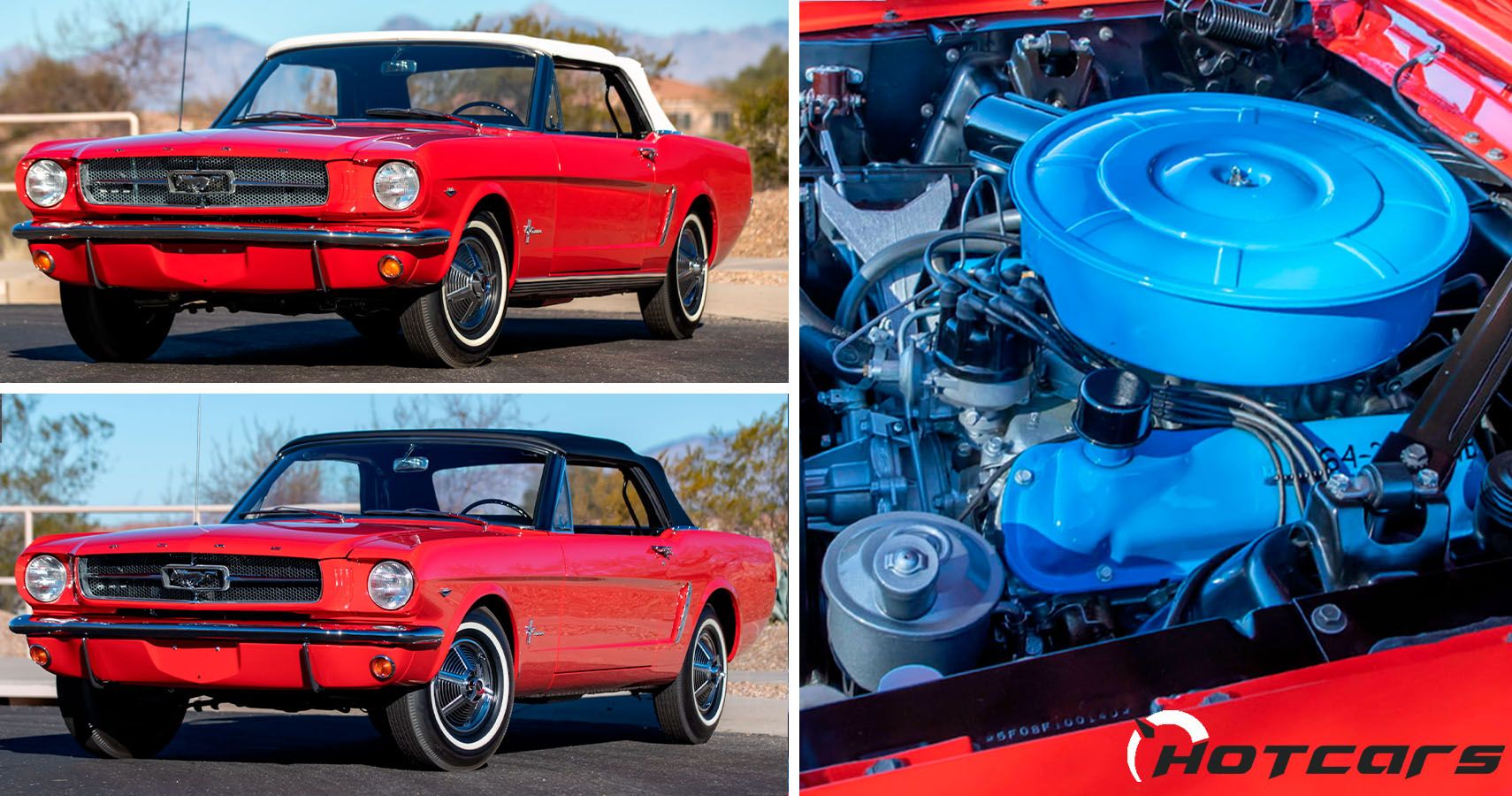 How two back-to-back pre-production Mustangs ended up at Mecum's auction in Glendale
Mecum's annual auction in Glendale kicks off next week with a huge selection of classic American collectibles, European sports cars, motorcycles and memorabilia. A highlight of the festivities comes in the form of two almost perfectly matched pre-production Ford Mustangs that will cross the block as lots S215 and S216 on Saturday afternoon.
The two Mustangs look almost indistinguishable from afar, aside from the choice of a black or white convertible top. But each will undoubtedly command attention as one of only 15 known pre-production Mustangs, with full documentation of their history, including Concours-level restorations completed over the past 15 years.
Now seems like the perfect time to sell a collectible Mustang, as recent world record auctions included the famous Bullit Mustang and, more recently, the famous Flying Mustang racing car. Mecum estimates that each of these pre-production pony cars will fetch somewhere between $300-350,000, so before the bidding action escalates, I spoke with private shipper Archie Beard of how he ended up with two back-to-back serial numbers – and why he decided to sell them both next week.
Finding #139 on Craigslist
Beard now lives in Tucson, about a two-hour drive from Glendale, but his Mustang journey to Mecum began decades ago.
"I grew up in the Denver area," Beard told me, "and I've always been a car fanatic, especially around early Mustangs. The first car I bought in high school, literally at 15 years before knowing how to drive, was a '65 coupe."
Over the years, Beard owned several other Mustangs and began to think of himself as an expert, until an online listing caught his eye, that is.
"I was just doing my favorite hobby of looking for cars on Craigslist," he recalls. "The ad was located in Thornton, Colorado, just another suburb of Denver, and it said '65 pre-production Mustang. At the time, I thought I was really an aficionado of early Mustangs and I 'said, 'I never heard of a pre-production, what is this guy talking about?'"
Beard remembers calling the seller on a Thursday and asking him to keep the car until Saturday. This window provided time to drive in from Arizona, as well as research more information on pre-production Mustangs before an initial in-person visit.
FOLLOW HERE: Official HotCars on Twitter
First encounters with 139 and 140
After arriving in Thornton with his wife in tow, Beard took the car, chassis number 139, for a quick test drive before closing the deal on the spot. He then drove the new pre-production Mustang about 30 miles through Denver to his second home in Golden.
"It worked well, but you could tell it needed a bit of work," Beard explained. "It really had been stored for a long time."
The seller said he wanted 139 to go to a good home – and Beard assured him he planned to undertake a full Concours restoration. Scouring online forums and researching restoration shops, it was concluded that such a rare car required the services of Buckeye Classic Car Restoration in Canfield, Ohio, a shop that had actually restored chassis number 140 about a decade ago. previously.
Then, while visiting owners Nathan and John Miller during the 18-month process, Beard actually met 140 in the flesh as he received a carburetor tune.
RELATED: A Look Back at America's Most Iconic Car, the Ford Mustan
A pre-production knowledge network
Beard explained how much knowledge it takes to restore a pre-production car like the 139, which made the Millers his clear and obvious preference for Concours-level work.
"There are literally 200 things that are different from production cars," Beard said. "There are small little nuances and there are some very large ones. The cars are not the same size dimensionally, and a lot of it is in the sheet metal. They are actually an inch shorter, a half -inches wider. And most of it's sheet metal, so doing a restoration on those, it's not like you can just buy a lot of parts and redo them."
Buckeye also sent some parts to other shops when their own experience and skills dictated, including the door sills that needed to be refinished in perfect aluminum. Part of the challenge was to retain as much of the original materials on 139 as possible, from the nuts and bolts to details like the carpeting and even the soft top arches.
"On 139 we used a piece of NOS carpet," Beard said. "It was new, but it was ok for the year and all. The heel that was in the original mat in 139 was still in great shape, so they cut it and the original heel the car is still in it."
If the specifics of a heel pad seem less important than these efforts suggest, keep in mind that on pre-production cars, small differences appear even between consecutive cars.
"If you look at the convertible top arches on 140," Beard explained, "They're flatter than they are on 139. And that was just a running change. The very first ones were flat, then more later, as they became ready to be assembled, were more arc-shaped for the water to flow out the top, as I understand it."
RELATED: A Detailed Look at the Evolution of the Ford Mustang
No. 140 appears for sale
Still, Beard readily admits that even calling the two cars consecutive, despite their back-to-back serial numbers, might not accurately describe how the factory actually built them. The corresponding 05C date codes, exclusive to pre-production cars built on March 5 of the first year (1964, not 1965 as the Craigslist ad might have claimed), indicate how far 139 and 140 came off the line, but the pre-production manufacturing process may have included different jobs at different times as Ford perfected the Mustang's convertible design.
"There's no way to tell they're really consecutive," he told me. "There was no real assembly line. So it's not like these two were rolling all the way down the line, but they were consecutive in how they got their numbering."
Still, 139 and 140 register as two of only 15 known survivors, out of an estimated 180 to 200 pre-production Mustangs ever built. Which explains why in 2021, when the owner of 140 called Beard at the end of culling his 50-car collection, uniting the two back-to-back cars almost felt like fate.
RELATED: The 10 Most Expensive Ford Mustangs Ever Sold At Auction
Small differences between two consecutive serial numbers
I asked Beard if he or the Millers discovered any additional differences while working on the two cars, other than the black and white convertible tops, not to mention the arc of the arches.
"140 has its engine painted silver," he replied. "The speculation there was to quickly search for any engine leaks or potential fluid loss issues. Mustang number one, which is in the Ford Museum, also has a silver painted engine."
Unlike the silver engine, 139 sports an all-black block with matching blue valve covers on top. The condition of 139 and 140 also varied by the time Buckeye began work. Beard told me he acquired 139 of them almost completely intact, thanks to a long period of storage in the dry air of Colorado, but 140 needed rusting when the previous owner ordered their restoration in 2008, including around toggle drains in side panels. But for the most part, the similarities far outweigh most of the differences.
"If you look at both cars and you really start piece by piece," Beard said, "Even in the engine bay, looking at the starter solenoid, the battery, the starter. is to love, 'Man, these things are close duplicates of each other!'"
RELATED: The Classic Ford Mustang on Display at the 1960s World's Fair Still Looks Flawless
decide to sell
Given recent auction records, I've talked about the perfect time to sell collectible Mustangs. Beard explained that now was the time to want such important cars to do more than just sit in his garage.
"They're not chauffeurs, as far as I'm concerned. I have another 64-and-a-half-year-old convertible that was in May 1964, but I drive it all the time."
Beard showed 139 and 140 at the Mustang Club of America's Spirit of the West National Show in Tucson last October, where they won bronze and silver, respectively. The attention from so many loving judges to see two nearly identical pre-production cars at the same time may have prompted Beard to sell with Mecum at Glendale. He hopes the two end up on a public display, where Mustang fans can learn more about what 139 and 140 mean in the history of Ford's original pony car.
"I'm just a guy who is the current keeper, that's how I see it. Someone will catch them then and hopefully take them to the next level and do better things with them. "
Sources: mecum.com, buckeyeclassiccarrestoration.com and mustang.org.
Here are some of the coolest Ford Mustangs of all time
Read more
About the Author