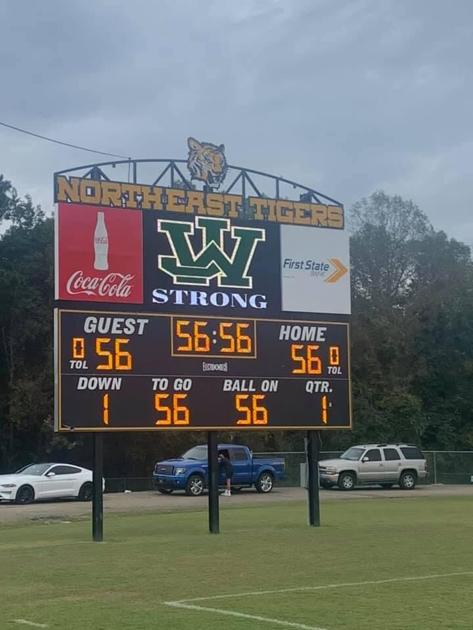 Gone too early | Free News
West Jones community mourns loss of Mustang senior Cade Thompson
The community of West Jones lost Elder Cade Thompson in a tragic accident on Wednesday when his pickup truck collided with a school bus on Highway 84 West, near Roy Jefcoat Road.
News of the death of Thompson, 18, sent shock waves through Jones County and surrounding areas. He was considered by many throughout the community to be one of the brightest young people she had to offer. Thompson was known to have a positive outlook, being an avid fisherman and a proud member of the West Jones football team.
He started off on the Mustangs' offensive line and was a key member of the 2020 Class 5A State Championship squad.
"He was an exceptional young man," said West Jones manager Cooper Pope. "We are heartbroken as a community and for his family. Everyone who knew Cade knew how special he was. It had an impact on us and our school mourns its loss.
After his death, a number of local schools showed their support for the West Jones community. Dashboards in the northeast
Jones, South Jones, Stringer and many others posted 56 – Thompson's number for the Mustangs. West Jones hosted Laurel on Friday, and in place of the Mustangs logo in midfield, Thompson's No.56 took his place to honor the fallen elder. On Thursday night, the Bay Springs football team paid tribute to Thompson as they walked out of their tunnel with the team captains wearing a number 56 jersey.
"It's never easy when a family and a community is going through something like this," said Bay Springs head coach Dan Brady. "We want to show our support for this school and this community during this difficult time. "
On Wednesday afternoon, family, classmates and staff at West Jones paid tribute to Thompson by adorning his senior football poster at Mustang Stadium with flowers, balls and candles. Justin Rhodes, pastor of the Big Creek Baptist Church of which Thompson was a member, addressed a large contingent of students gathered at Mustang Stadium.
"I want you to know that we actually didn't lose Cade today," Rhodes said as he addressed an emotional West Jones student group.
"Something happened about three years ago. Cade came to speak to me in our church office. He set there and said, 'Brother Justin, I need to be saved.'
"We talked a bit and there in the Big Creek Church office Cade gave his life to Jesus Christ. A few weeks later, on May 20, 2018, I had the wonderful privilege of baptizing this young man. So I want you to know today that we didn't lose Cade today. Cade is in heaven with Jesus Christ, and I'm going to see him there someday.
The School District Crisis Support Team is available to all West Jones students facing the loss of Thompson. Immediately after the sinking, prayers for family and students were sent out and social media exploded with the phrase "West Jones strong".
"When I came back to campus after being on the scene, the players had met all of the coaches on the field," Pope said. "We had several youth ministers on campus praying with the children. Cade was good with people, and no one should have to lose a child like that. Our thoughts and prayers are with his family. "
Thompson's funeral will be at the Big Creek Baptist Church today (Saturday). Tours will begin at 10 a.m. and services will begin at noon.