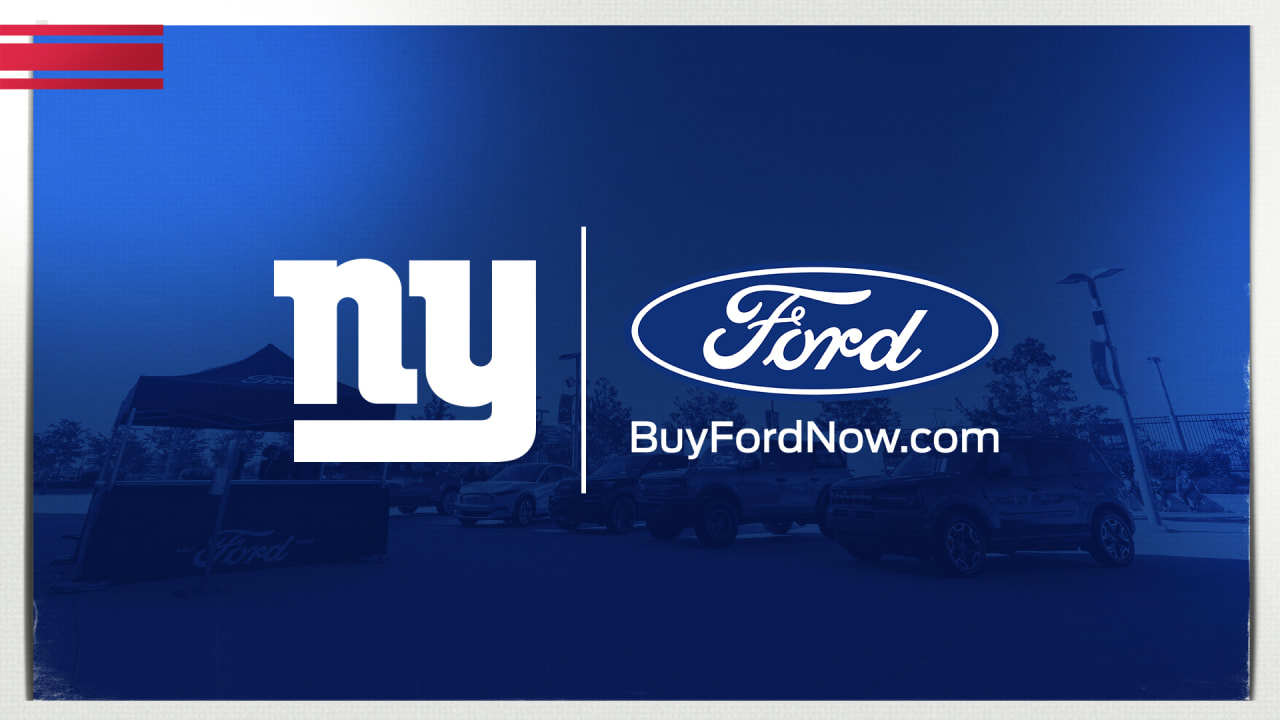 Giants and Your Local Ford Stores Announce New Official Partnership
EAST RUTHERFORD, NJ – The New York Giants and your local Ford stores today announced a new multi-year partnership that brings together two loyal fan bases to build a deeper connection in the community.
Like the Giants, local Ford stores are active in the tri-state area with outreach initiatives focused on first responders, military personnel, and youth programs. Both brands are excited to expand their reach, proving that we are all "tougher together".
"Your local Ford stores are all about building community," said Tri-State Ford Dealers President John Billard. "Now that we've partnered with the Giants, we're excited to be part of the family, where together we can share new experiences and grow our collective fan bases. Go Big Blue!"
Ford, the official New York Giants vehicle, truck and SUV, will be actively present on and off the field at every Giants home game throughout the season. From 2022, Ford will be the main sponsor of the New York Giants training camp. As part of Ford's "Proud to Honor" initiative, local Ford stores will sponsor the game's "Military Moment" to salute those who serve. Additionally, the "Big Blue Tough Cam" will feature fans showing how tough they are built on video panels, much like Ford's built Ford Tough trucks.
"The Ford Blue Oval is a symbol of pride and honor, which are also two of the building blocks of the New York Giants," said Pete Guelli, Giants commercial director. "While celebrating and strengthening our heritage, both brands are still building for the future, which is why we are delighted to partner with Ford on these community outreach initiatives."
The Ford lineup offers something for everyone in the family: SUVs, sports cars, trucks, vans, hybrids, electric vehicles and utility vehicles. Ford is revolutionizing its lineup by electrifying iconic vehicles for a new generation, including the F-150 Lightning, Mustang Mach-E and E-Transit. Ford continues to ride a wave of success with the return of the Bronco, the new Bronco Sport and the all-electric Mustang Mach-E, all of which will be showcased on location this season.
About your local Ford stores
Your local Ford stores are based in New York, Connecticut, and New Jersey with 93 dealerships in the area. These local stores carry and service the full line of Ford trucks, SUVs, vans and cars, as well as electrified passenger and commercial vehicles. Ford stores provide financial services through Ford Motor Credit Company. As Ford pursues leadership positions in electrification, connected vehicle services and mobility solutions, your local Ford stores help support our community through charitable efforts focused on first responders, military personnel, initiatives youth and community revitalization projects. For more information about Ford Motor Company, its products, or Ford Motor Credit Company, visit www.ford.com Where www.BuyFordNow.com.