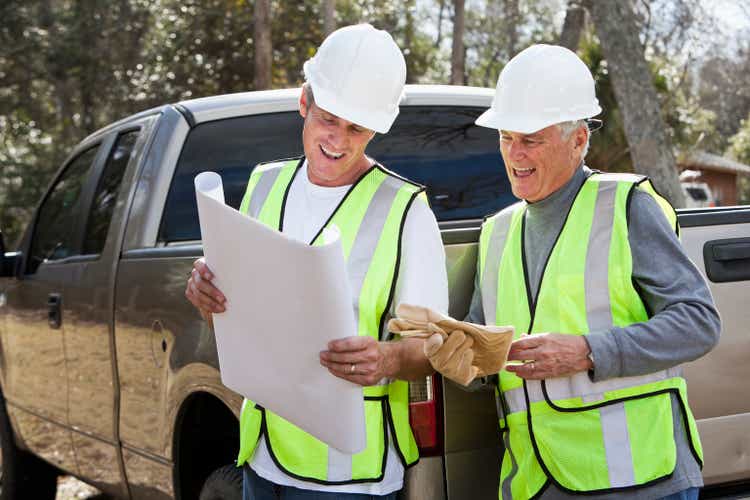 General Motors and Ford can use truck fleet sales to build strong EV reputations
Two members of my C-12 CEO's board run relatively large companies in the construction industry, each with a fleet of over 50 trucks. Another has franchises in Two men and a truck. Over the past two years, I've learned what they think of their trucks, how they're used, and the costs involved. If their views are representative of the industry, and I believe they are, it will have big implications for the adoption of electric work trucks over the next five years.
$30 billion in annual savings
In 2021, there were only 487,460 electric vehicles sold in the United States, an increase of 89% compared to 2020. In contrast, in 2021, there were 1.6 million fleet sales in 2021 , up from 2.8 million in 2019. In 2019, 2 million of these were trucks and SUVs. Of course, none of these vehicles are electric.
The cost of owning a truck has increased dramatically. Fuel costs for a van are 15.81 cents/mile, compared to 3.66 cents/mile for an electric vehicle. Maintenance is 9.55 cents/mile for a van and 7.77 cents/mile for an electric vehicle. On the list of things an electric vehicle will never experience are oil changes, transmission repair, coolant and transmission fluid flushing, alternator replacement, replacement belt and hoses and others. The total difference is 13.93 cents/mile, which, if you drive 15,000 miles/year, comes to $2,090/year for each truck. Over the normal life of 8 years, that's a savings of $16,000.
For a fleet of 2 million trucks/year, this equates to the annual creation of $30 billion in savings, at the expense of oil and gas companies and the automotive service industry. Also, something not considered here is the current increased value retention for electric vehicles and the likely deterioration in resale value of ICE vehicles later in the decade.
The fleet owner's point of view
In rough numbers, a plumber, HVAC, electrician, roofer, or other business with a fleet of 50 trucks can expect to generate $30,000 in business with each truck, each month. Multiplying that, that's $18 million in annual revenue. A reasonable margin for these companies might be 5%, or $900,000 in annual profit. From their point of view, the advantages of an electric fleet are:
$100,000 in additional annual profits, an increase of 11%
Potentially higher resale value or longer durability, reducing ongoing vehicle depreciation costs.
On-site power supply for tools and other activities. For those serving new construction, this is a significant advantage.
Refuel overnight, saving time normally spent at gas stations. Having every vehicle start the day with a full tank will also increase on-time appointments.
Best torque for towing and rough terrain.
There are very few trade-offs and the upside potential is very significant. These companies carefully examine the expenses associated with their fleets and try to reduce them in any way possible. The potential to augment this with solar power and batteries is also a consideration.
The opportunity for General Motors, Ford and Rivian
Compared to a brand like Tesla, General Motors and Ford stumbled early in the EV race, both in terms of the speed to market and the quality of their vehicles. Ford's first electric vehicle, the Focus, with a range of around 100 miles and a 0-60 time of 11 seconds, couldn't compete with Tesla's Model S, and ultimately sold just 1,115 vehicles/year. The Mustang Mach-E, which came out ten years later, sold 27,000 vehicles last year, more than the entire Focus Electric. But that was 10 years too late, and sold about 1/30th of the Tesla lineup. The Ford F-150 Lightning is a solid offering and will have the 2nd engine advantage, behind only Rivian.
General Motors got off to a better start, with the Chevrolet Volt and later the all-electric Chevrolet Bolt. However, the Volt was pulled from the market and soon after the Bolt was recalled due to spontaneous battery fires, costing General Motors and their partners $1.8 billion, or about $12,700 per year. vehicle sold. In Q4 2021, combined sales of the Bolt and Hummer totaled just 26 EVs. Rivian delivered over 1,000, almost all of them in Q4. But the new electric Silverado will be a real contender, rivaling the F-150 lightning and Rivian.
The conservative construction and service industry is unlikely to accept the form and appearance of the Tesla CyberTruck, and Tesla has also announced that it won't start delivering until 2023. So the race is on and Ford , General Motors and Rivian can enter a segment and establish their brands without the competition they will have in Tesla's sedans and SUVs.
Bottom Line Summary
You're here : The CyberTruck, when it comes, will appeal to the retail customer, but not to fleet sales. They are late and have poor product-market fit.
Rivian: With their looks, performance and first-mover advantage, they will prevail in both the retail and corporate fleet segments. I estimate they will eventually capture over 30% of truck sales, which were over 11 million vehicles in 2021.
General Engines: They stumbled, and their brand lost confidence in electric vehicles in a market where it should thrive. If their Hummer launch goes well without the spontaneous fires that have plagued the Bolt, they can use that and Silverado's tremendous offering for fleet sales to re-establish themselves as a trustworthy EV maker. Loyal customers will buy from them, including fleet owners. But they will face fierce competition from Ford, as they do today with ICE trucks.
Ford: Ford has spent the last few years learning from its mistakes in the merger era, which has earned it little traction with customers and poor vehicle sales. However, their current lineup looks great, and they don't have the current headache of General Motors media and safety recalls. Look for them to gain shares in fleet trucks, but give some of them in the retail market to Tesla and Rivian.