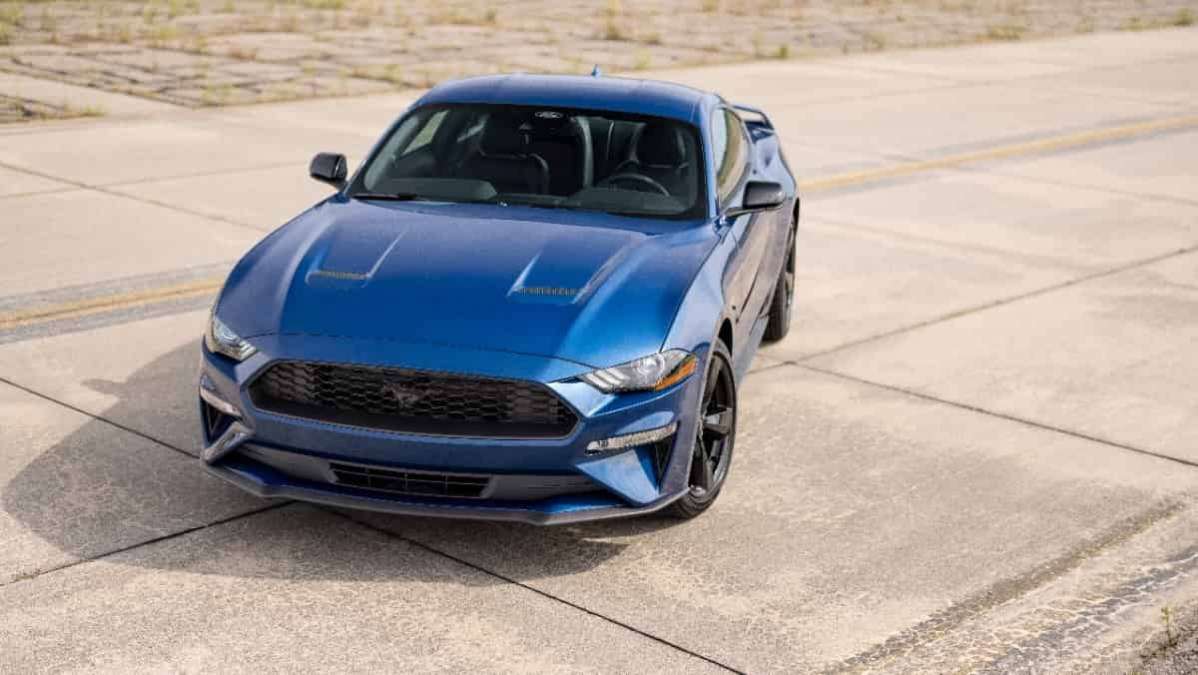 Ford adds looks and performance packages to its 2022 Mustang lineup
Ford is adding two packages to its Mustang lineup for 2022. The first is an all-new appearance package, while the second is a performance-focused update.
The very first stealth skin pack
The Mustang will launch the very first stealth-looking package available for the EcoBoost® Premium model. At the same time, a Mustang GT California Special will offer, for the first time, a GT Performance Package option.
"Since 1965, the Mustang has been synonymous with performance and play, and the 2022 model year continues that appeal with the new Stealth Edition and an updated Cali Special," said Jim Owens, Mustang brand marketing director. "Mustang owners have always loved to personalize their ride, and these new Mustang flavors are ready to inspire and thrill new enthusiasts."
Meanwhile, Ford's first electric vehicle, the Mustang Mach-E, is the first electric vehicle approved for police. Ford's Mustang Mach-E is approved for police pursuits.
Orders for the 2022 Mustang, including Stealth Edition and California Special, will open later this year. The vehicles are expected to arrive in showrooms in the first quarter of 2022.
Adding even more style to the turbocharged 310 horsepower Mustang EcoBoost model, the optional Stealth Edition package stays true to the model name, giving customers a more menacing fastback with unique blackened appointments.
Features of the Stealth Skin Pack
The Stealth Edition Appearance Package includes 19-inch black painted aluminum wheels, black pony badges, performance rear spoiler, black mirror caps and new clear LED taillight covers, also shared with the new package Mustang Ice White appearance. Unique new interior fittings include a matte and glossy black instrument panel and sill plate.
"The black accents really give the car a whole new personality, sinister and sporty at the same time," said Owens. "Of course, the package needed the right name. Stealth Edition says it all."
The Stealth Edition is available in Atlas Blue, Carbonized Gray, Dark Matter and Shadow Black.
Starting with the first generation Mustang, the California Special represents a unique regionalized appearance package with unique styling cues. The updated 2022 Mustang GT California Special embodies this tradition.
California Special Appearance Package
Based on the 2022 Mustang GT Premium fastback and convertible models, the latest California Special Appearance Package pays homage to the blacked-out grille, side racing stripes and rear fender scoop of the stock trim.
The heritage-inspired "GT / CS" sideband hallmark runs from the front fender to the iconic rear fender scoop. A California Special badge in black and racing red adorns the trunk lid, while the honeycomb grille with the "GT / CS" badge offers a unique look. A larger front splitter from the GT Performance package underscores the icon's handling prowess.
A performance rear spoiler from the GT Performance Package is available for the fastback model, while spoiler removal is standard for the California Special convertible. The California Special carries 9 unique five-spoke 19-inch painted machine wheels. Under the hood, the Special Edition features a signature strut tower brace with a California Special badge atop its 5.0-liter V8 engine.
Interior fittings include rich black Miko® suede-trimmed door inserts and suede-trimmed seats with embossed "GT / CS" logo and red contrast stitching, as well as custom embroidered "GT / CS" floor mats. . A carbon hexagonal aluminum script badge with signature California Special script badge completes the passenger side.
GT Performance Package available
The GT Performance Package is now available first for the California Special, allowing more incredible handling and drying dynamics for the best performing California Special ever.
The GT Performance Package adds a range of performance and handling features that include:
Six-piston Brembo front brake calipers
Unique frame adjustment with heavy-duty front springs
Larger tubular rear stabilizer bar
Overall lower body height
K-brace
Strut tower support
Front Subframe V-Bracket
TORSEN® limited slip differential
Unique stability control
Electric power steering adjustment
19X9 inch offset front tires
19X9.5 inch offset rear tires
Pirelli summer tires to improve grip
The California Special is available in Atlas Blue, Charred Gray, Cyber ​​Orange, Dark Material, Grabber Blue Metallic, Iconic Silver, Speed ​​Red, Shadow Black and Oxford White.
Marc Stern has been an automotive writer since 1971, when an otherwise normal news editor said, "You're our new car editor," and dropped about 27 books of automotive stuff on my desk. I was in heaven because I have been a reducer since I started. As a teenager, I spent the usual number of poorly spent hours hanging out at Shell and Texaco gas stations (an important thing in my youth) and working on cars. From there it was a straight line to my first column for "You Auto Know" newspaper, a business I have run faithfully for 32 years. Not many people know that I have also handled computer documentation for a good part of my life while writing YAN. My best writing, however, has always been in cars. My work has been published in Popular Mechanics, Mechanix Illustrated, AutoWeek, SuperStock, Trailer Life, Old Cars Weekly, Special Interest Autos and others. You can follow me on: Twitter Where Facebook.