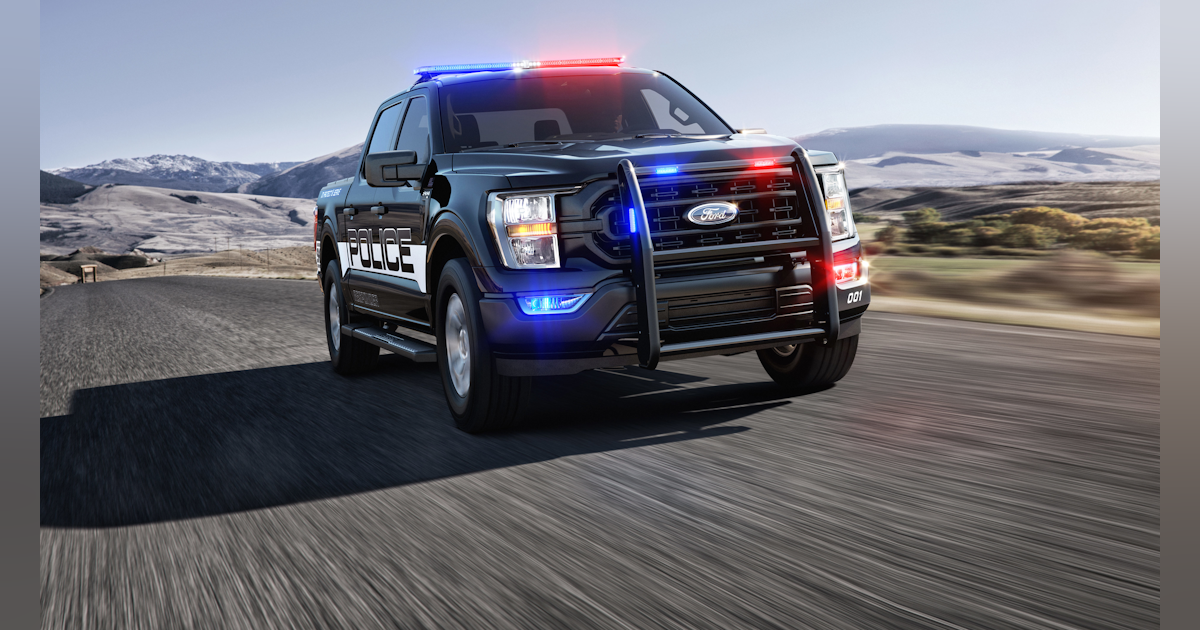 Emerging Trends in Vehicles and Fleet
Patrol vehicles and their equipment have evolved over the past 60 years, and even more over the past 10 years. From simple, unmarked emergency lighted sedans to built-in portable offices, the patrol vehicle is perhaps the most widely used tool an officer owns or is issued. Unless assigned to a foot patrol, bicycle patrol, or mounted unit, most of an officer's day is spent inside their patrol vehicle.
The Officer.com Trends & Emerging Technologies in Law Enforcement Vehicles webinar (officer.com/21243160), sponsored by Leonardo, examines the evolution of law enforcement vehicles and accessories. Moderated by Officer Media Group Editorial Director Frank Borelli, the webinar includes several interviews conducted by Editor-in-Chief Paul Peluso with Leonardo Vice President of Marketing and Communications Nathan Maloney; Greg Ebel, Ford Pro Police Brand Marketing Manager; and Judy Setina, vice president of Setina Manufacturing Company, and Brett Ware, director of sales and marketing.
Patrol vehicles

In the early 1900s, police vehicles were seen as a budget saving tool. One officer in a patrol vehicle could cover as much area as several officers on foot. The markings on these early vehicles were simple and usually consisted of the word "Sheriff" or an image such as a star or badge. The first police vehicle was launched only after the First World War. Ford, Chevrolet, and Dodge all released their own police vehicles in the 1950s. The NYPD was the first department to have a fleet of "radio powered patrol vehicles".
Technological advancements in patrol vehicle accessories such as automated license plate readers and the LoJack vehicle tracking system emerged in the 1970s. In the 1980s, more and more computer chips were installed in patrol vehicles and emergency lighting has changed from single or double "bubbles" to simplified, multi-light and multi-function units. In the early 1990s, portable computers, called mobile data terminals, found their way into patrol vehicles.
Prior to the 2000s, dash-mounted cameras in vehicles were becoming commonplace. From 2000 to 2010, body-worn cameras were developed and adopted by law enforcement across the country. Emergency lighting continued to develop as LED lighting evolved. The use of laptop computers in vehicles continued to grow in popularity as software and connectivity evolved. The early integration of multiple systems inside the vehicle was also gaining momentum.
Since 2010, there has been a continuous evolution of software leading to the digitization of documents, streamlining the transfer of shipping-related information, and the integration of systems and data sharing between platforms.
For Ford, the Crown Victora was the centerpiece of their law enforcement offering for much of the 80s and 90s. that the Crown Vic is coming back?" says Ebel. "But as we evolved over time, we had the Police Interceptor sedan and then with the Utility – V6, all-wheel drive – which was a game-changer . There was more performance, better fuel economy. It's just a better overall package. What we see now from this development is that the industry as a whole has shifted towards SUVs. Our Police Interceptor Utility is our bread and butter.
Ebel says another step forward in Ford's evolution is the standard hybrid model of the Police Interceptor Utility. "Why it works so well for law enforcement is only because of the natural duty cycle and excessive idle times. With hybrid, the engine is off for a very big chunk. 80% idle time, the motor is off.
Ford also focused on the F-150 Police Responder, which was all-new for 2021 and is the only pursuit pickup on the market. "Some agencies need this performance and capability both on-road and off-road. That's what the F-150 Police Responder delivers," he says.
The automotive industry as a whole is transitioning from internal combustion engines to all-electric motors. While law enforcement will understandably lag behind in adopting the new technology due to the demands placed on patrol vehicles, Ford is working to make it a reality. Last fall, the Mustang Mach-E police driver was part of the Michigan State Police's 2022 Model Year Police Vehicle Evaluation Program. "We wanted to demonstrate to our customers that an all-electric vehicle can actually meet the law enforcement duty cycle and I think it did," says Ebel.
Contemporary equipment

Patrol vehicles serve three main purposes: transport, equipment, and prisoner transport. Vehicles are often modified with prisoner barriers, transport "cages", sturdy seats, vinyl floor coverings and spit screens. They also often serve as a hub for road safety and law enforcement equipment. This includes pit bumpers, RADAR, flares, collapsible cones, signal wands, safety vests and arresting sticks.
Setina Manufacturing Company founder John Setina started with the Washington State Patrol working on vehicles and was asked to create roll bars for the academy's training vehicles. During this time, John recognized the need for a prisoner transport bulkhead. Deep in his garage, he worked on his products until he could get the patent. Two years later, he left the patrol. "Today, the Washington State Patrol is still one of our best customers and biggest supporters," says Judy Setina.
The same forces that drove the evolution of patrol vehicles also affected attachments, according to Ware. "Years ago, the recipe for a police car was a big heavy car, big engine, big brakes. Same with accessories. Something like a cargo box, until recently we would want a heavy duty box and weight wasn't so much of an issue. As things have evolved, we have become smarter in our use of materials. Now Ware says the props are constructed from smart materials, where the skeleton is reinforced, but other areas are lightened. The cargo box has a steel skeleton, but the cargo sections are aluminum. The same is done with push bumpers, where steel and aluminum are used.
Another vaunted Ware advancement is the SmartBelt system. "When you plug in the Smartbelt, when you buckle up this suspect, it actually locks the seatbelt, so it puts it into emergency behavior so it holds it tight. They don't wiggle there The system includes an output that can talk to the siren controller and support different behaviors to alert an officer.If an officer arrests a suspect and talks to another, if that person were to step out of the belt, that officer would be alert.
Scan the environment

Automatic License Plate Recognition (ALPR) systems have evolved to include date integration and sharing. Contemporary LPR systems can alert the officer of hits related to Amber and Silver alerts, license plates related to high risk events, suspended/expired/revoked registrations and open warrants/BOLOs for the registered owner of a vehicle.
"The size of license plate readers has shrunk and their efficiency has been amplified through technology because of the optics and lighting used in them," Maloney says, noting that when the ALPR was developed for the first time, cameras were the size of a bread box. Now the units have been reduced to approximately 5 inches by 5 inches.
"Not only are we providing a smaller product, but we are providing a product that is more useful to law enforcement. The optics, the lenses, the things inside the camera that you wouldn't normally see have improved due to a variety of uses for these optics. One of the most important things is the possibility of having different focal lengths in the camera. If you're on an interdiction mission, you can sit on the side of the road, given the right focal length, and be able to capture two or three lanes of traffic, so that's a big improvement.
Another thing Leonardo has heard from his customers is that trunk space is limited. "They don't want a big processor box in the trunk. We've worked hard to reduce the size of the processor enclosure, so it takes up less space.
Many of the advances Leonardo is working on involve the back office system. In the operations center, Leonardo is putting more analytical tools so agents can do things like cross-reference searches. This includes convoy analysis. There is a case recalled by Maloney in which two vehicles passed each other at the same time every week and it was determined to be a transfer of money and drugs in moving traffic. One of the company's goals remains how to make the LPR system a robust tool. Not only look at license plates and make it a source of data, but also include other points of information.