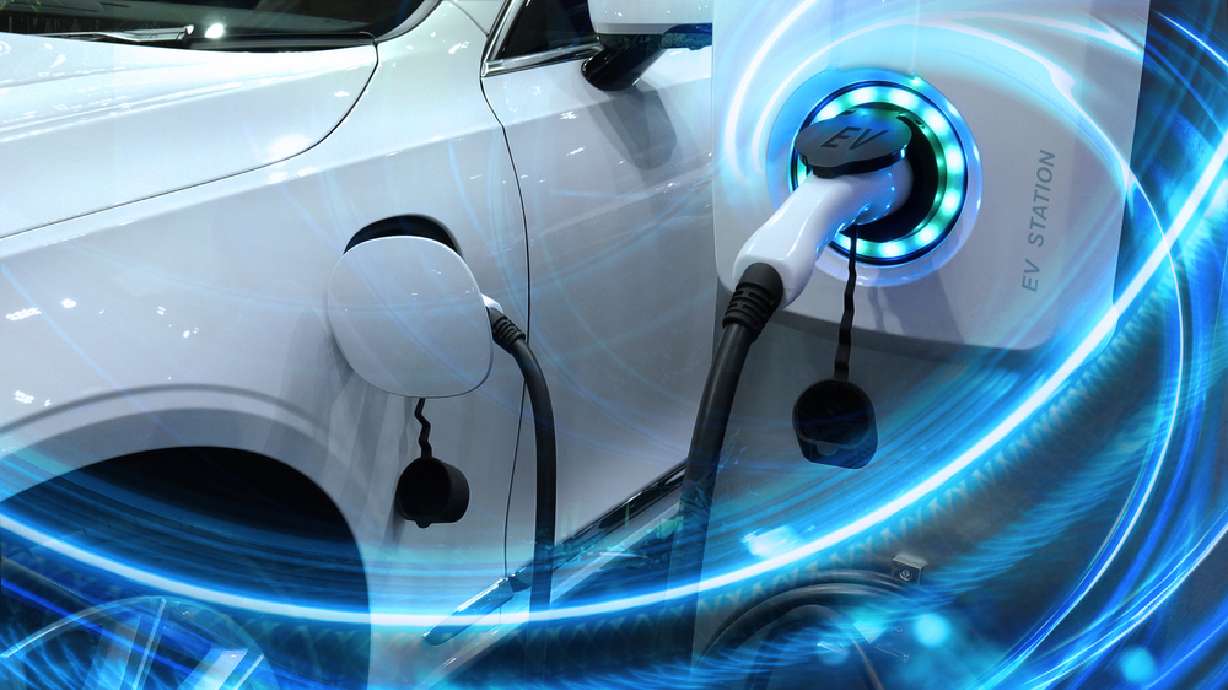 Electric vehicles are the future. Here's what's available right now
Estimated reading time: 9-10 minutes
The automotive market is currently changing. Supply chain issues, chip shortages, gas prices – it's hard to know what the future holds for cars. There is one thing certain in the automotive market, however: the future is largely electric.
Reuters reports that major manufacturers have announced spending of around $500 billion on electric vehicle development and expect most of their model lineup to be electric in the coming years. Several of these vehicles are already on the market and available at Ken Garff dealerships. While EVs may not be for everyone (yet), there are plenty of good reasons to buy one now.
First, MarketWatch reports that electric vehicles offer long-term cost savings over traditional internal combustion vehicles. Electric vehicles have become more affordable in recent years and offer myriad savings on things like gas and maintenance compared to their internal combustion siblings.
Charging with electricity is much cheaper than filling a tank with gasoline, and with fewer complex parts, maintenance is much less expensive than it would be on an internal combustion vehicle.
Second, with more electric vehicles on the market, there are more charging stations than ever. The technology has improved so much that Kelley Blue Book reports that some electric vehicles can reach 80% of a full charge in less than 20 minutes, about the average stopping time of a gas station on the road. Plus, the convenience of home charging provides a sense of peace of mind that you'll never be without the charge you need.
Finally, electric vehicles are no longer relegated to the gonzo egg-shaped designs of the past. Instead, modern electric vehicles come in a variety of body styles. From luxury sedans and compact and affordable sedans to sports cars, SUVs and trucks, there are electric vehicles for every preference and every driving need.
If you haven't considered an electric vehicle yet, maybe you should. Here are some of the new EVs on sale, all of which you can find at your local Ken Garff dealership.
Audi e-tron models
Audi has recently taken a step ahead by rolling out several electric vehicles for consumers. From the Q4 e-tron family, to the e-tron family, to the e-tron S family and the e-tron GT family, Audi has made sure they have something for everyone looking at the range of brand electric vehicles.
Edmunds.com experts have nothing but positive things to say about the 2022 e-tron. "Wow. Need we say more? The e-tron is a comfortable machine. sophisticated and stable on a variety of road surfaces, and the cabin is so quiet without feeling like a sensory deprivation chamber," writes Cameron Rogers.
If you want to try one out for yourself, you can find all of Ken Garff's e-tron listings here.
Chevrolet Silverado EV
The Chevy Silverado EV is a game-changing electric pickup with up to 510 horsepower and an 8,000-pound towing capacity. According to Forbes, "In the spring of 2023, the Silverado EV will debut a WT model with an estimated range of over 400 miles. In the fall of 2023, a fully loaded RST First Edition model will debut, after which Chevrolet will release the full Silverado. Portfolio of electric vehicles."
Find all Ken Garff Silverado EV listings here.
Ford Mustang Mach-E and F150 Lightning
One of the most controversial vehicles in recent memory, the Ford Mustang Mach-E is an impressive and stylish first EV effort from Ford. Sure, it's not your typical Mustang, but the Mach-E has a lot to offer for those willing to give it a shot.
Zach Doell of US News states in his review: "The all-electric 2022 Ford Mustang Mach-E ranks near the top of the hybrid and electric SUV category, thanks to its balanced handling, quick acceleration, long range, its spacious and upscale interior. , and user-friendly features"
Ford estimates it can go about 314 miles on a full charge. Add to that sporty performance and distinctive Mustang styling, the Mustang Mach-E deserves your attention.
Oh, and Ford is launching its electric version of the F-150, the Lightning. With all the utility of the fan-favorite F-150 and the benefits of an electric vehicle, the Lightning is already a huge hit.
Find all Ken Garff Mustang Mach-E land F150 Lightning listings here.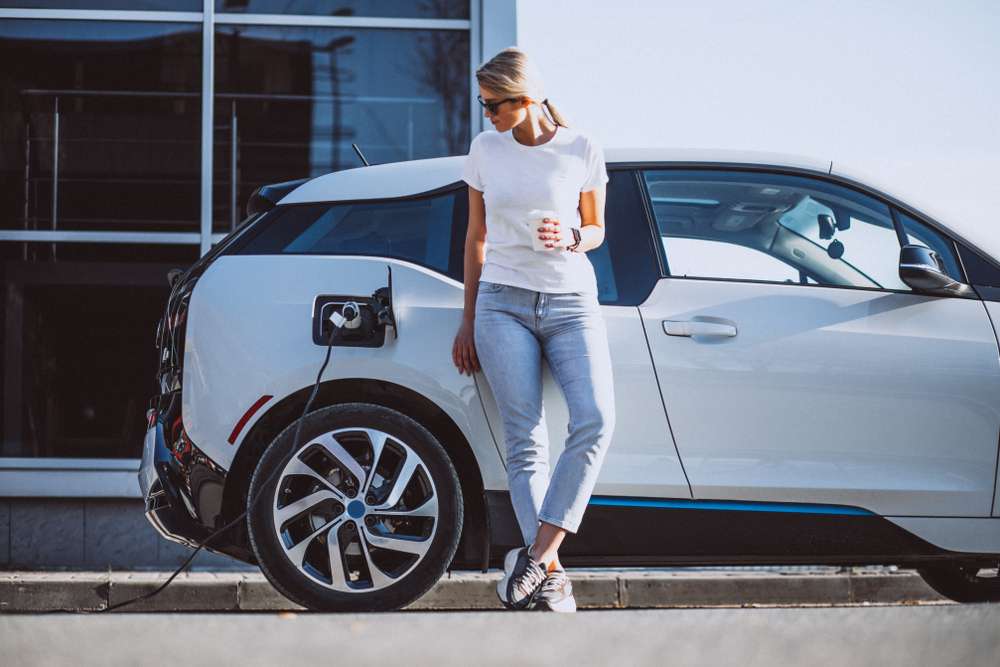 Hummer
Who doesn't love a good nostalgic revival? While the original and second-generation Hummers were widely maligned for their inefficiency, the new GMC Hummer is going 100 percent electric. With 1,000 horsepower and a price tag well over $100,000, the Hummer is the ultimate statement machine.
Find Ken Garff Hummer listings here.
Mercedes-Benz EQS
Mercedes-Benz isn't known for skimping on luxury, and the brand's new EQS redefines electric luxury to the nth degree. Featuring a 56-inch curved "hyper display" on the front, LED lighting available in 64 colors, an advanced aromatherapy filtration system, attractive styling and robust power, the EQS is the electric vehicle for those who must have it all.
The pros at Motor Trend had a lot to say about the EQS. They said, "It's refreshing to experience an electric car without any performative gimmicks. The EQS… doesn't try to beat the ranges of other electrics. The EQS simply translates over 120 years of Mercedes-Benz automotive manufacturing, from gasoline to electric. "
Find all the Ken Garff EQS announcements here.
Porsche Taycan
It's been a while, but Porsche has made its debut on the EV scene and it's been a hit. The Taycan is a sleek, svelte and capable electric vehicle with the soul of a Porsche. Available in a variety of Turismo and Sport Turismo trims and configurations, the Taycan is the answer for those seeking the latest innovations in EV engineering from one of the world's most respected manufacturers.
The folks at Top Gear summed up the Taycan's appeal by saying, "Stuttgart's first electric vehicle is a real Porsche – extremely fast, fun to drive, quick to recharge and practical enough for everyday use."
Use this link to find all Ken Garff Taycan listings.
Volkswagen ID.4
Volkswagen has always been one of the best-selling manufacturers in the world, and with all that money, it was only a matter of time before they launched their version of the EV. The ID.4 is Volkswagen's first dive into the electric vehicle pool and it showcases the brand's efforts to make electric vehicles accessible to people of all ages.
"Outside, sleek aerodynamic lines create a striking road presence," explains Volkswagen's website. "Inside, there is plenty of space to have a spacious and comfortable cabin. It will transform your perception of electric cars. »
Go here for Ken Garff ID.4 listings.
Hyundai Ioniq 5
Hyundai has been really going at it for the past few years, and nowhere is that more evident than in the new Ioniq 5. With its unique, forward-thinking styling and a long list of standard features, the Ioniq 5 is an exciting take on the electric vehicle .
CNET echoed this new vision for the EV segment, saying, "What you see is what you get. And what you get is awesome: great on the road and great for the eyes, the 2022 Hyundai Ioniq 5 has already propelled itself to the top of an ever-growing pile of attractive and chunky battery-electric vehicles."
The Ioniq 5 also has over 300 miles of range and is one of the most spacious and feature-rich cabins on the market. If you're looking for one of the coolest EVs on sale today, the Hyundai Ioniq 5 deserves a second look.
Use this link for all Ken Garff Ioniq 5 listings.
Nissan Leaf
The LEAF is about to disappear, soon to be replaced by the Ariya, but the Nissan LEAF remains an interesting and affordable electric vehicle for small budgets. Starting at just over $27,000 and with a base range of 149 miles, the LEAF is ready to take home.
Cameron Rogers of Edmunds.com summed up the LEAF well when he said, "The Nissan Leaf gets a lot of success. Its range of 150 or 226 miles, depending on the model, is sufficient for most EV buyers. It's also quiet and has some useful technological features that can make driving in heavy traffic easier and less tiring."
Find all the Ken Garff LEAF announcements here.
Volvo XC40
While the XC40 offers internal combustion engines in addition to its all-electric version, the Volvo XC40 is the brand's first all-electric SUV designed from the ground up to be an electric-only vehicle. The XC40 doesn't just look good either. It is built with durability and connectivity in mind. If you're looking for an environmentally conscious electric vehicle, Volvo's new XC40 is sure to capture your attention.
In his CNET review, Daniel Golson summed up his experience with the C40 nicely when he said, "The process of styling and buying the C40 won't suit everyone, but the design-conscious and cutting edge. of tech who want a solid electric vehicle, this new Volvo is a great option – and it foreshadows much of what is to come from the brand's more mainstream offerings."
Use this link for all Ken Garff XC40 listings.
Electric vehicles are the next wave of automotive innovation, and there are plenty of great options out there already. Ken Garff dealers have several models ready to purchase and order. Find yours today by visiting any Ken Garff car dealership or by visiting their website https://www.kengarff.com/.
×
Key words
Brand viewThe driver's seat
More stories that might interest you