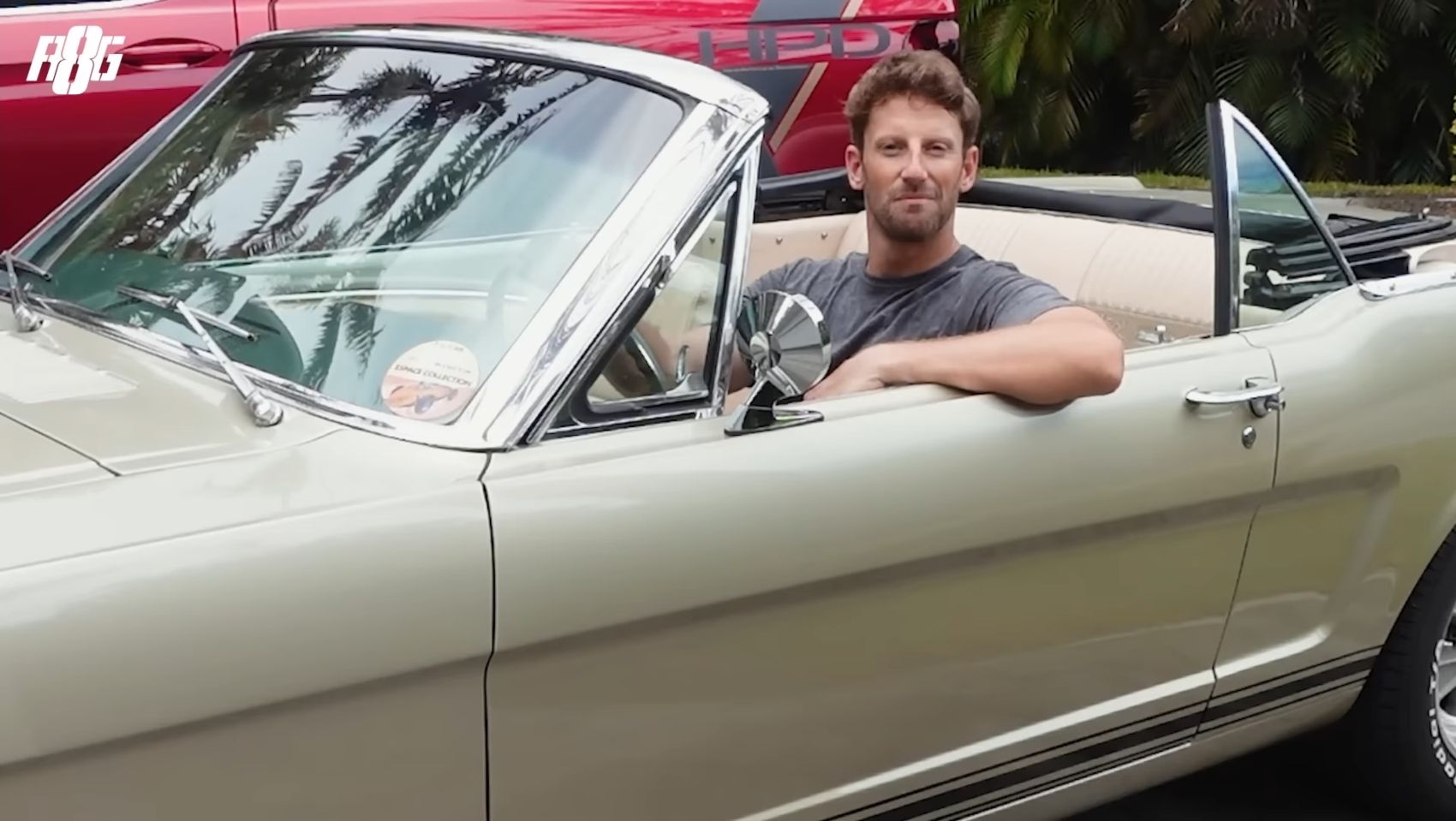 Check out IndyCar driver Romain Grosjean showing off some interesting machinery in his garage
Romain Grosjean is a familiar face for enthusiasts of Formula One and the Indycar Series championships. Grosjean, a seasoned Formula 1 driver for nine full seasons with different teams, moved to Indycar Series after the 2020 Formula 1 season. Since then, there has been no looking behind the Franco-Swiss racing driver, as he recorded some victorious races in the new rounds of his motorsport career.
While Romain Grosjean drove flawless race cars in Formula 1 and Indycar, little information was available about his collection of automobiles at his residence in the United States. After a series of requests from his followers, Romain Grosjean uploaded a video to his YouTube channel, where he presented all the vehicles he owns. While the garage includes a few bread-and-butter models, it also has a few iconic models from yesteryear, which make its garage worth looking into.
Related: 10 Coolest Cars (& 5 Motorcycles) From Tom Cruise's Collection
Grosjean reveals what a professional racing driver's garage looks like
The first vehicle that Romain Grosjean presents to his viewers is a custom red Honda Ridgeline tuned by Honda Performance Development (HPD). This pickup from Honda is the second-generation version, which hit the market in 2016. Grosjean's Ridgeline looks slightly more exclusive with a different exhaust system and gold rims from HPD. Given his association with Honda in Indycar, Grosjean chose the Ridgeline for his weekend adventure activities like kite surfing and cycling, for which he can put his stuff in the bed in the back. He also praises the Ridgeline's capability, engine and practicality as a four-door, five-passenger vehicle.
The second vehicle in the Romain Grosjean car collection is the third generation Honda Pilot. Grosjean owns this Pilot for his family use. He says the Pilot feels more practical to drive with his three kids and their friends, thanks to the two second-row seats and three third-row seats. The black-colored Honda Pilot owned by Grosjean gets features like cooled seats, which he says is a godsend during Miami summers. Grosjean's Honda Pilot is mainly used by his wife, Marion Jolles. Although he drives it occasionally as it feels more urban in its feel than the Ridgeline.
Grosjean also likes to trill on two wheels with his BMW R 100 RS
Going from four wheels to two, Romain Grosjean presents his beautiful 1981 BMW R 100 RS. As seen in the video, Grosjean has customized this bike to give it the look of a real café racer. While parts like the fuel tank, alloy wheels, engine and chassis are in their original form, this custom R 100 RS gets a different seat that gives it the cool look of a cafe racer. In the video, Grosjean says that before starting the customization work on this BMW R 100 RS, it had only traveled 900 km (559.2 miles). The original BMW R 100 RS was the predominant choice of German policemen, but this version is very different from the one in Romain Grosjean's collection. In the video, Grosjean also gives some glimpses of the R 100 RS's flat-twin engine.
The only other two-wheeled thing owned by Romain Grosjean is this next name on the list, a Trek Time Trial race bike. Romain Grosjean says that since it is a time trial bike, it has features like a large zipped wheel with 858 performance tires, a power meter on the pedals, large gears on the rear wheel and a time trial position for a re-entry. posture while driving. Grosjean claims it can go up to 37 km/h (23 mph), although it's not too comfortable for riding for long hours. Grosjean also says he enjoys cycling and pedaling about 5,000 km (3,107 miles) a year. Along with his Trek TT bike, Grosjean also shows off his custom Ekai helmet.
Related: What Romain Grosjean Survived His F1 Crash Means About Ayrton Senna & Dale Earnhardt's Legacy
Living in the United States, Grosjean now owns a 1966 Ford Mustang.
Now comes the real surprise, and well guarded. The last car presented by Romain Grosjean in the video is a gold colored 1966 Ford Mustang, one of the first pony car models. Explaining this perfectly preserved Mustang, Grosjean says the car has the original color and wheels. The retuned 289 cu in (4.7 liter) V8 in this Ford Mustang puts out around 400 hp. It also has a fully functional retractable roof, which can be folded down at the push of a button. Grosjean also gives a detailed description of all the gauges and switches for various functions. The interior is custom tan leather, with the rear seats featuring Mustang logos and aftermarket seat belts.
After describing the car in detail and how its retractable roof folds down, Grosjean talks about how he acquired this Mustang. Grosjean is the third owner of this Mustang. The first owner purchased this car in 1966 for around $3,850. The second owner of this car shipped it to Switzerland. Before having this car shipped to his Miami residence, Grosjean used it in Switzerland, where he bought it from its second owner and drove it in Geneva for three years.
The video ends with Roman Grosjean taking the most eye-catching vehicle on the list, the Mustang, for a drive on the open roads of Miami, with its roof down.