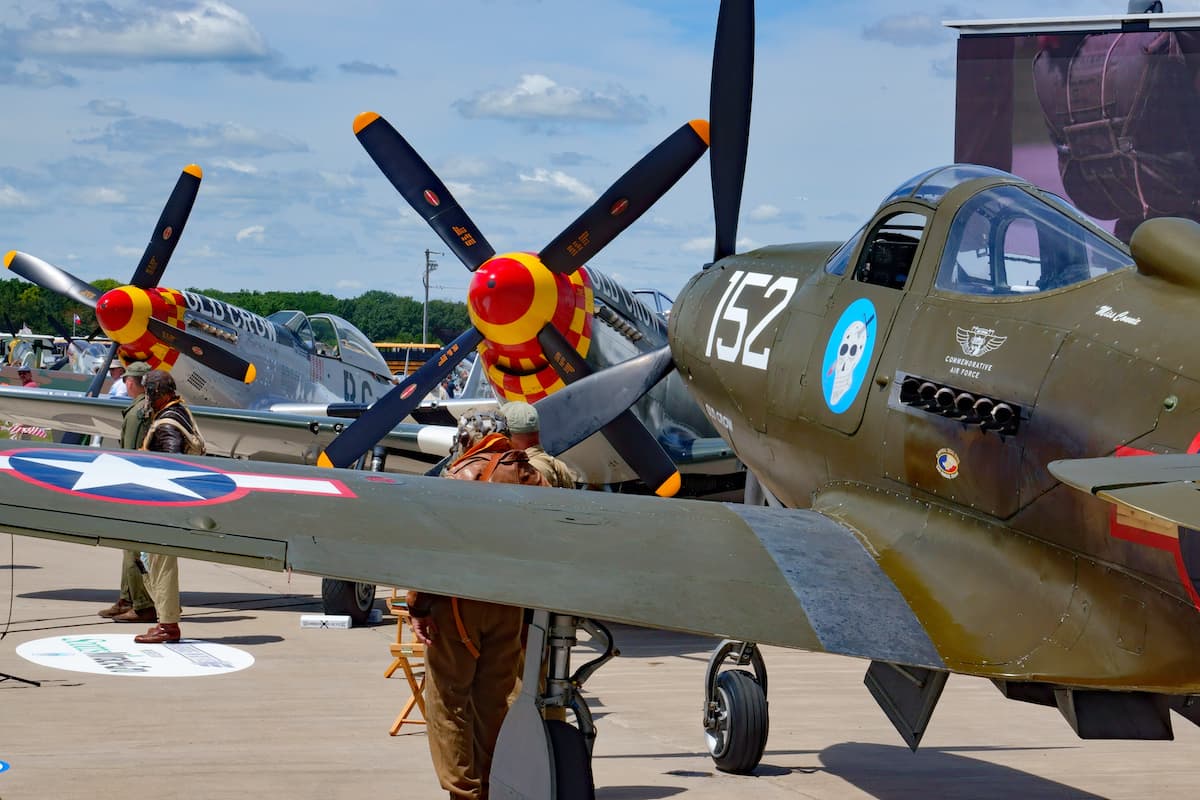 Bud Anderson honored in Oshkosh — General Aviation News
Bud Anderson came EAA AirVenture Oshkosh 2022 where he was warmly greeted by a standing crowd as he was surrounded by special warbirds restored to represent three aircraft he flew in World War II.
More than 1,000 enthusiastic fans filled the stands and Warbirds in Review ramp on July 26, 2022 to see — and hear — Bud.
Sharing the ramp was the newly repainted Air Force Memorial P-39 Airacobra in the markings that Bud Anderson used on his Airacobra during late training in the United States in Casper, Wyoming. The event marked the debut of the rare P-39 in its new identity as Old Crow, the name Bud has continued to apply to several aircraft over the years.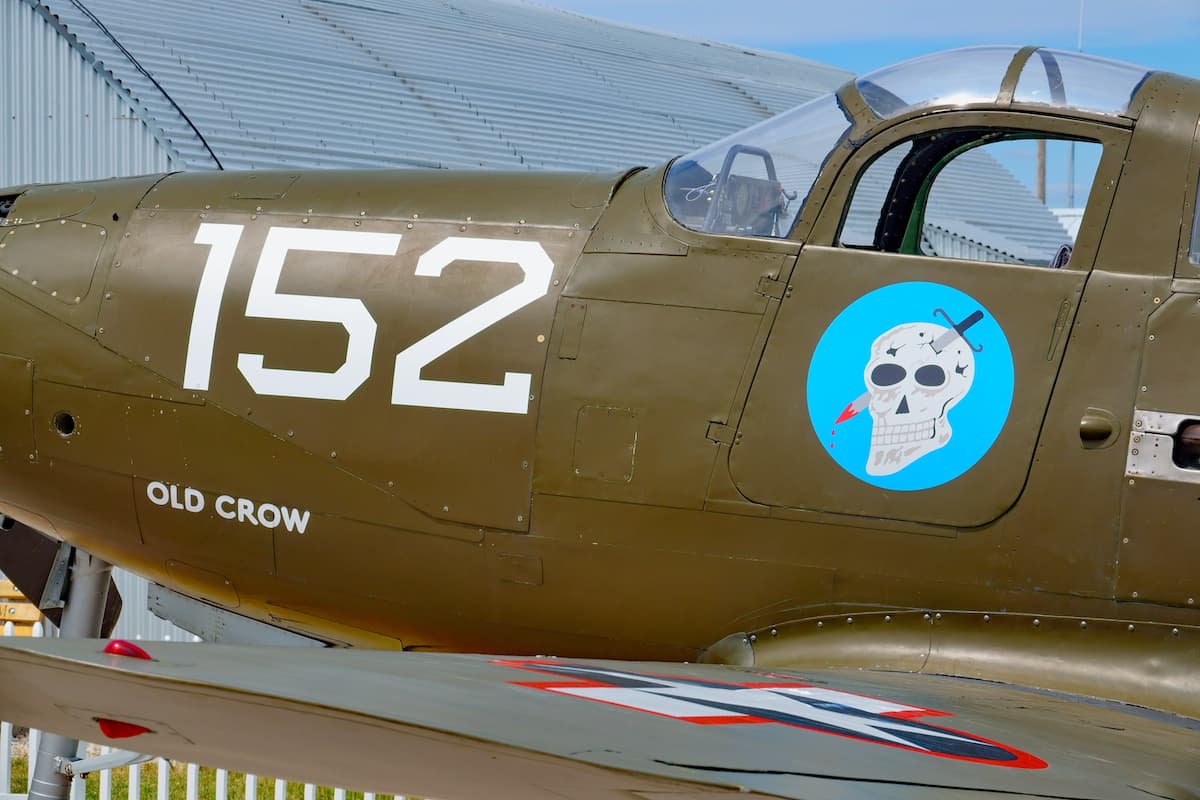 According to Bud, the name Old Crow meant wise bird when speaking with sober friends; for others, it represented alcohol.
Also on the ramp with Bud was the P-51B Mustang belonging to Jack Roush, appropriately camouflaged and emblazoned with the name Old Crow.
Jim Hagedorn's silver P-51D iteration of Old Crow completed the trio.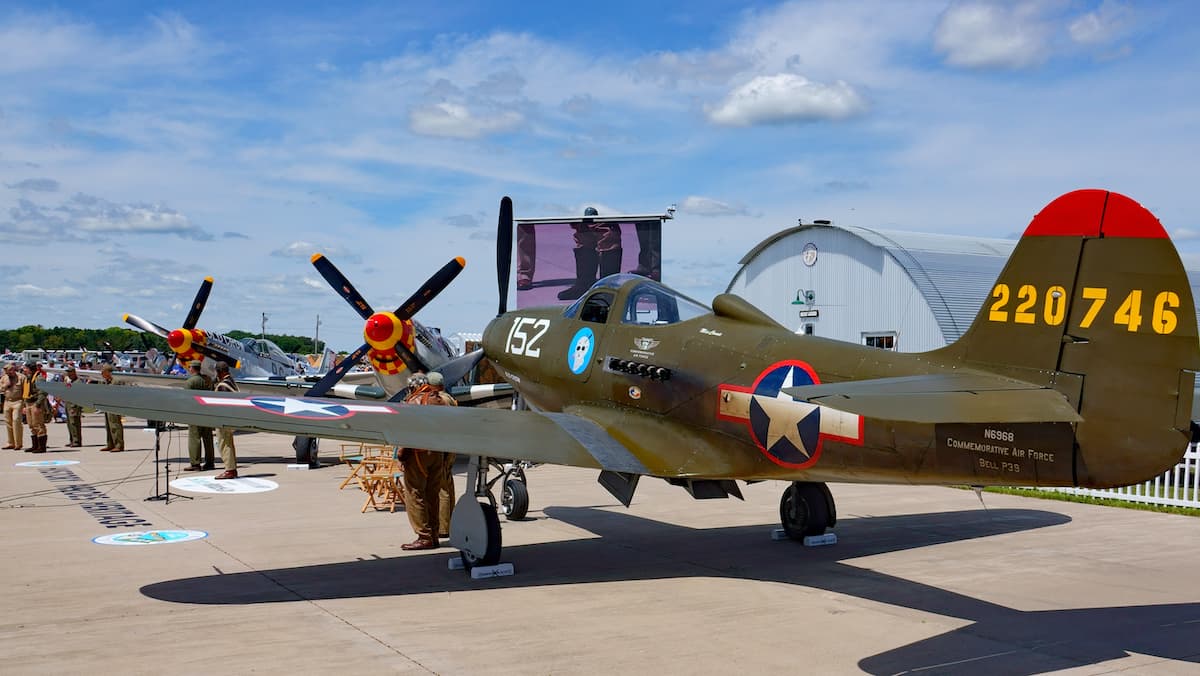 A session at AirVenture with Bud Anderson is something to cherish, and the grateful warbird crowd understands that.
Clarence E. "Bud" Anderson tells tales of life-and-death combat over Europe in Mustangs as simply as one might describe a trek through the woods. Bud's eyes twinkle and his mouth lifts in a smile as it has for a century.
People come out of a session with Anderson knowing they've been in the presence of history, made and relayed by this man who faced mortal dangers and experienced things we can only begin to understand. through his telling of stories.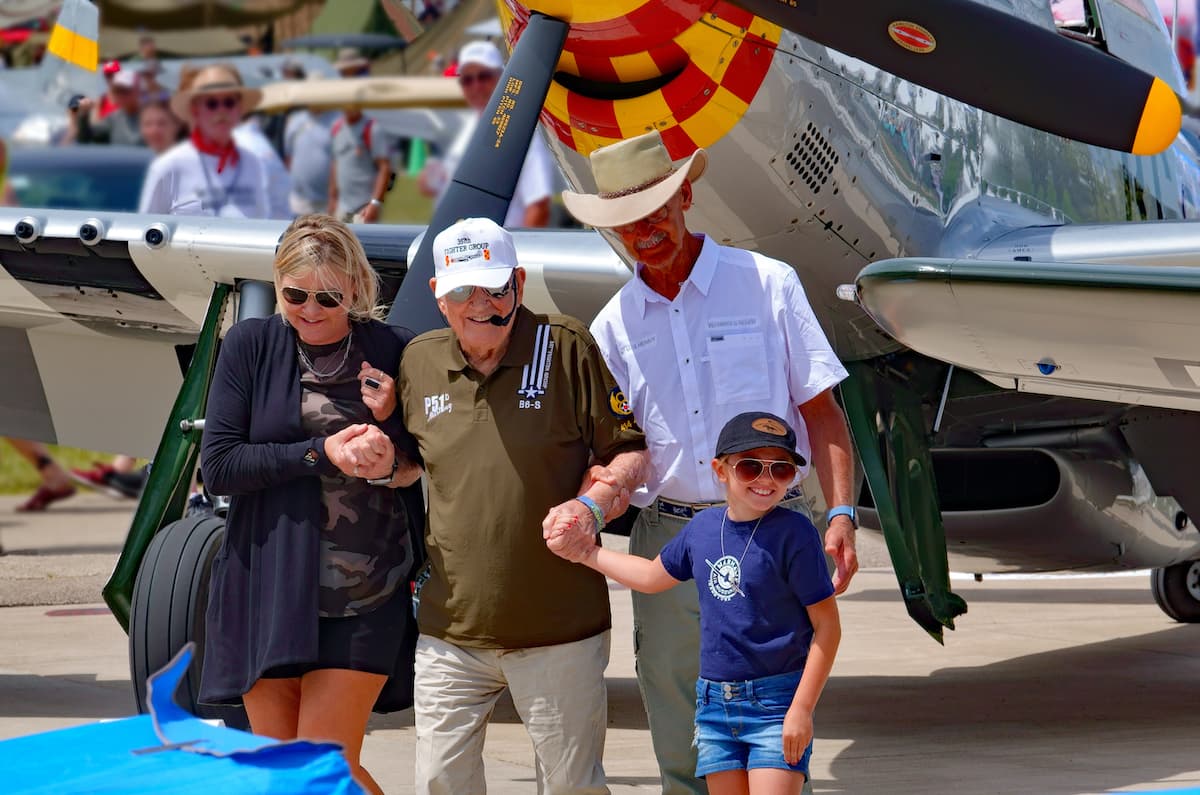 It was easy to get Bud to tell war stories to the crowd. He laughed as he started describing aerial combat with his hands, saying it was a necessary part of his communication.
"I'm the number one guy in a flight of four ships," Bud began. "Here come four Me 109s flying in front line."
The Messerschmitts quickly dispatched two B-17s. Bud and his fellow Mustangs stepped in to cut off the German fighters from the bombers.
Bud found himself in a spinning engagement with one of the 109s, with neither pilot able to get into firing position. Meanwhile, Bud was aware of the approaching armada of B-17s, unable to deviate from their course.
The German fighter pilot broke away first, diving for speed as Bud followed.
"He had a good head start, though," Bud recalled.
The Messerschmitt pilot turned his fighter to face Bud's Mustang. Anderson saw a good sight picture. "I had a burst," he recalled, adding that he had been swept away by the German plane. Pieces of the Messerschmitt cowling and the enemy fighter's propeller broke off the plane, and Bud could see the pilot parachute out. It would be one of Bud Anderson's 16 and quarterback aerial wins.
Now, about that quarter-final victory. Bud was part of a flight of four P-51s flying west at around 5,000 feet when he spotted a shadow which he drew towards a Luftwaffe Heinkel He 111 twin-engine bomber. Old and slow, the enemy bomber was nonetheless a fighter that had to be taken out of the war.
Known for his aggressiveness in combat, Bud acknowledged that "my guys in my flight don't shoot too much when they fly with me".
So Anderson put the other three Mustangs into formation. He performed the first firing pass on the He 111, watching smoke billow from one of the bomber's engines. The other three P-51s in the flight made fire passes, and the Heinkel made a forced landing, breaking up in the process.
Anderson saw a German crewman leave the wreckage and run across the open field. Bud couldn't resist the temptation and roared over the fleeing airman at low altitude, his Mustang's Merlin engine roaring, before smartly stopping and rolling for victory. We may never know if this German airman recounted the day he survived a Mustang attack to his family and friends for years afterward.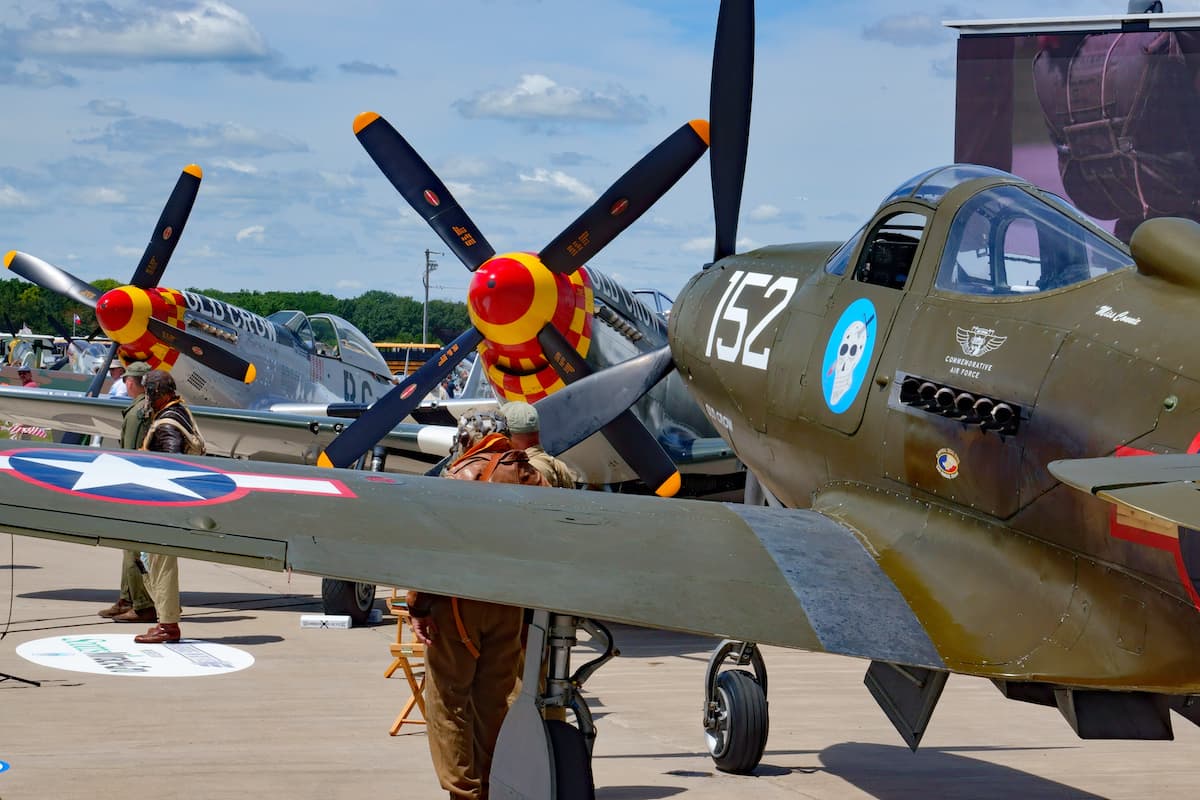 Bud Anderson and the owners of the three Old Crows spoke for over an hour, interacting with the audience. As Bud was leaving, Bud received a rousing ovation from an audience who clearly appreciated him and appreciated the time spent in the presence of a living legend who seemed equally grateful to be with them.