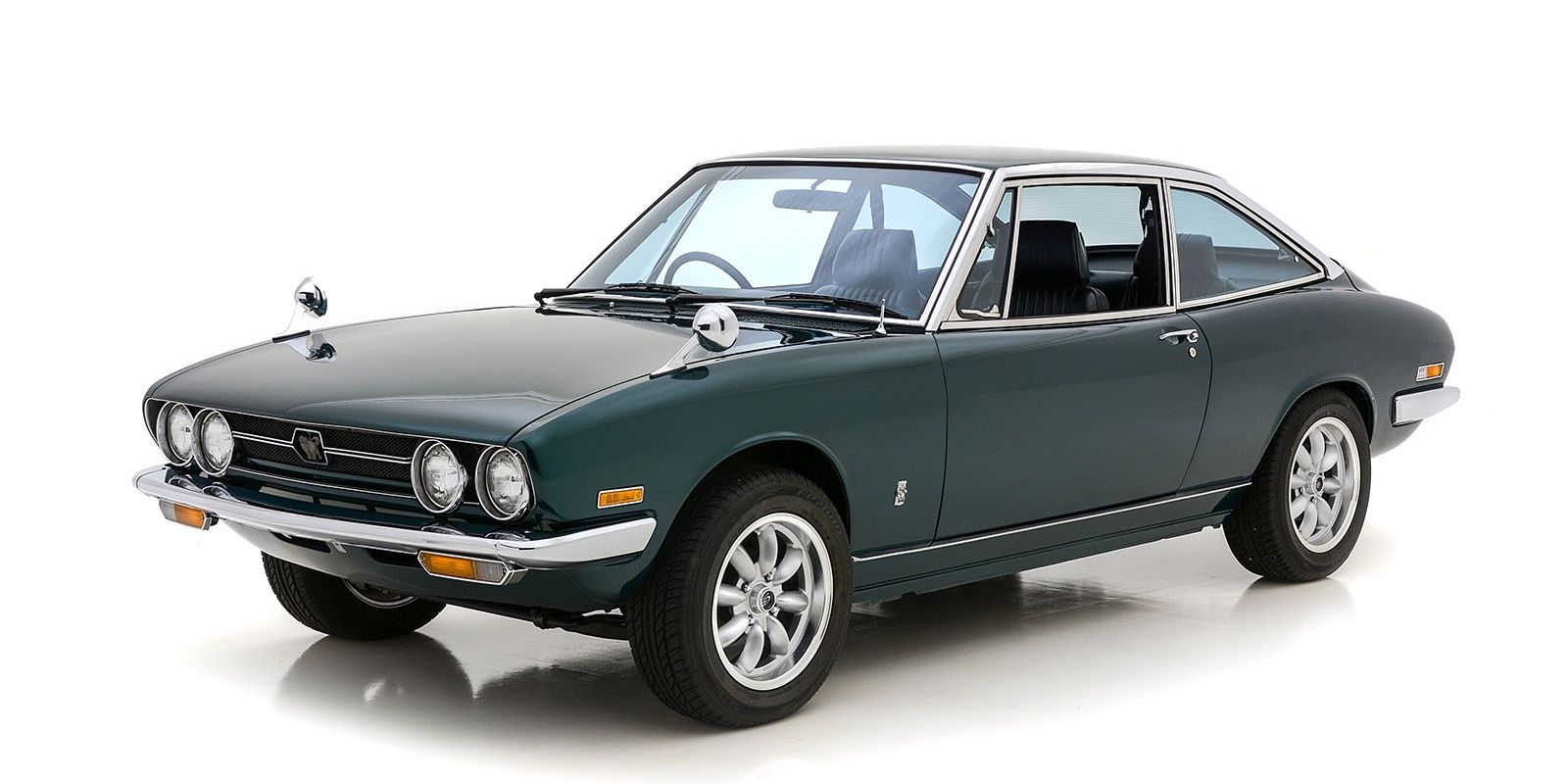 5 '60s JDM Classics We'd Blow Our Savings On (And 5 American Muscle Cars)
When it comes to which cars are car enthusiasts' favourites, it usually comes down to a muscle car icon or sports cars of Japanese culture. For example, in the modern age, most gearheads dream of owning a blacked-out, snarling Mustang 5.0, or a Nissan R35 GT-R with a sick Liberty Walk kit to accentuate its curves and aggressive stance.
What if we told you that there are equally great, if not superior, '60s picks that you've completely missed? Well, that's why we're here for you. Without further ado, here is a list of five American pony cars and five JDM legends of the 60s that are worth every penny.
ten
Mazda Cosmo 1967
Just as most people mistakenly assume the GT-R name originated from the R32, Mazda's rotary engine didn't originate in the RX-7; it was first featured in the Cosmo in 1967. You see, the purpose of the rotary engine wasn't to be quirky or sound good – it was never even performance oriented. Mazda's initiative behind the Wankel engine was to circumvent certain taxes that Japanese citizens had to pay if their vehicle's engine exceeded a one-liter displacement; hence the 982 cc displacement of the Cosmo. This attracted buyers everywhere, and Mazda eventually sold a Cosmo a day.
This Mazda's engine may have been microscopic, and it was never designed to produce gargantuan amounts of power, but once the 110 hp was attributed to the 2,000 lb body that had a front suspension at double wishbones and an anti-roll bar, this lovely JDM gem could handle corners like something from outer space.
9
1964 Pontiac GTO
Ah, the infamous Pontiac brand; they created awesome vehicles throughout their life, like the Trans Am and the Firebird, and some less awesome vehicles also like the regrettable Aztek. But one creation that stands out from all their other cars has to be the '64 GTO.
Not only was it one of the fastest cars of its time thanks to its 348bhp 6.4-litre V8 up front, but also one of the most striking with the perfect blend of angular and aggressive designs. and a smooth, subtle ride. Here's a perfect example of a well-maintained 1964 Pontiac GTO for sale on Hemmings for just under $100,000.
Related: The Ultimate Drag Race: 1970 Chevrolet Z28 Camaro Vs 1965 Pontiac GTO
8
1969 Nissan Skyline GT-R
Many believe the Skyline heritage began with the R32, but far beyond that was the PGC10, the original GT-R. It didn't have flared wheel arches, nor the iconic four circular taillights, it didn't even have four doors!
What it had though was a 2.0-liter straight-six that delivered 180bhp to the rear wheels, a standard 5-speed transmission, a limited-slip differential, and a combination of drum and disc brakes. . The four-door GT-R proved to be a success, and soon after, in 1971, a two-door variant named the KPGC10 appeared, but it is best known as the Hakosuka.
Related: A look back at the evolution of the Nissan Skyline GT-R
7
1969 Plymouth Barracuda
Your first question might be where the legendary 'Cuda ranked on our list, but unfortunately the 'Cuda name didn't begin its life cycle until 1970. However, in 1969 Barracuda models were offered along with an optional performance package called the Formula S pack.
This extra included black inserts scattered all over the car, a dual exhaust system with chrome tips and, best of all, a Super Commando V8 engine that sent 330 hp to the rear wheels. In conclusion, the Barracuda was not just an eye-catcher, but a machine worthy of the muscle car name.
6
1964 Honda S500
The S500 was Honda's second production car and the ancestor of the wild S2000. It had the styling of a British touring car and essentially the heart of a motorcycle. Along with the help of its team of 2-wheel experts, Honda developed a 531cc inline-four engine with an 8,000 rpm redline to accommodate the S500.
That engine only managed to put out 44 bhp, but since the S500 was classed as a kei car and weighed less than 1,600 pounds, that was more than enough to slap you with joy anytime you get behind the wheel in one of these .
Related: 10 Cars That Prove Downsizing Can Work
5
1968 Dodge Charger R/T
The Charger name still lives on to this day, but unlike the four-door muscle sedan we have today, the Dodge Charger was born as a two-door muscle car that dominated the drag strip. In 1968, the second generation Dodge Charger was unveiled and the R/T variant was equipped with an astronomical 44 Magnum 7.0-liter V8 that exhaled up to 420 stock hp.
Whether you end up with a 3-speed automatic or a 4-speed R/T, both can do the quarter mile in around 13.5 seconds, making it one of the best ever on the acceleration track.
Related: How much is a 1969 Dodge Charger worth today
4
1967 Toyota Century
Ah, we're taking a break from light, nimble sports cars and overpowered American monstrosities…we're treading the waters of understated luxury. The first Toyota Century came out in 1967 and was exclusively sold in Japan, and this decision definitely hurt the sales of some high profile European manufacturers like Mercedes-Benz.
Under the hood of the JDM limo was a silky-smooth, but rather sluggish 3.0-liter V8…you see, speed was never the Century's forte. Set in the 1960s, the Toyota Century depicts the importance of a Rolls Royce in today's era; a stellar black finish with beautiful chrome accents, an interior drowned in the most exuberant leather and wood. To this day, the Century exudes importance and sophistication without camouflaged among other luxury limousines.
3
1969 Chevrolet Chevelle SS
The Chevelle SS is arguably one of the best muscle cars, if not the best, Chevy has ever created. Sure, in the late '60s the competition was tough, even Chevy's Corvette was competing with the Chevelle, but there was just something about this American hero that set him apart from the rest.
Maybe it was the gorgeous V8 under its hood producing up to 375 bhp, maybe it was its distinct coupe shape with a front end reminiscent of an El Camino, well, whatever it is who made the Chevelle SS such a gem has caused demand to skyrocket, and values ​​for "69 models" are already above the $70,000 mark.
2
1968 Isuzu 117
In 2022, Isuzu mainly focuses on large pickups and family SUVs, but a long time ago they produced much more attractive cars like the 117. The 117 was designed by the remarkable Giorgetto Giugiaro, who was also responsible for some of the most influential cars in the world, like the DMC DeLorean and the BMW M1, this of course explains why the 117 was such a magnificent creation.
Initially the 117 was powered by a 120 bhp 1.6-litre four-cylinder petrol engine capable of a top speed of 124 mph, and later a 2.2-litre diesel engine. The Isuzu 117 is certainly not one of the most popular JDM sports cars known to the public, but it is certainly one of the coolest in the world.
1
1967 Ford Mustang GT500
The new GT500 is a beast to be reckoned with on the straights and around corners, but the OG 1967 GT500, also known as good old Eleanor, is where this whole legacy began. It inhabited a 7.0 liter Police-Interceptor V8 that delivered 355 bhp to the rear wheels alone – now bear in mind this is the late 60's you were lucky if your car had more than 100 hp at the time.
Not only did it have plenty of power, but it also lost weight over the standard '60s Mustang because it had fiberglass from its front end to its taillights. The end result was one of the coolest, most sought-after muscle cars the world has ever seen, and a 1967 Mustang GT500 can be yours if you've got a quarter million bucks burning in your pocket.
10 American Muscle Cars We'd Never Buy Used
Read more
About the Author