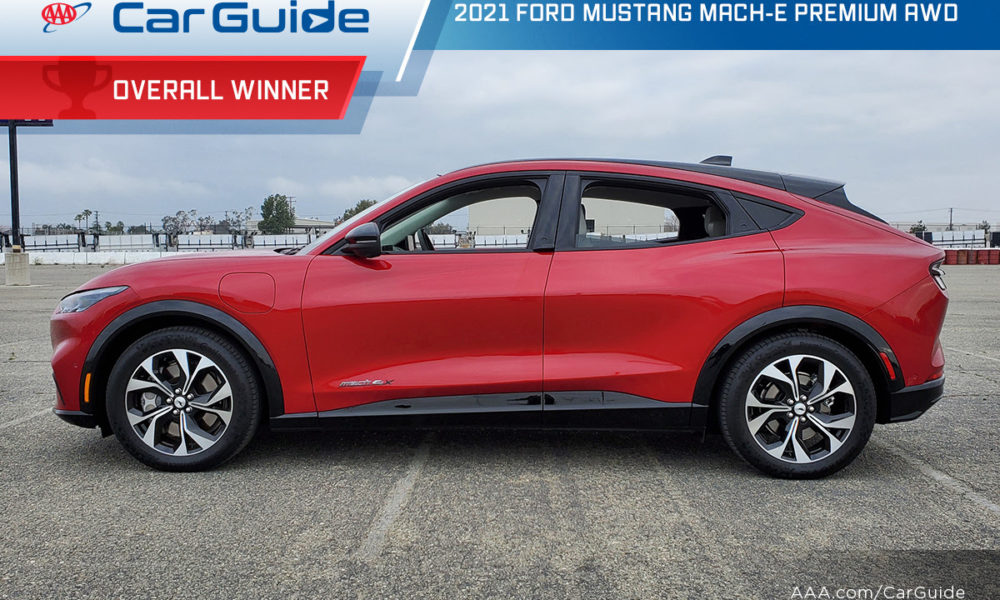 2022 AAA Car Guide – Going high tech often means going electric
LOS ANGELES — New-vehicle buyers primarily want two things on their next drive: better fuel efficiency and more driver-assist safety features. According to AAA, almost 80% of drivers want automakers to focus on improving fuel economy.
And 76% want active driver assistance systems (ADAS), like automatic emergency braking, lane-keeping assist and adaptive cruise control. Meeting both of these desires can be accomplished with the latest batch of EVs (electric vehicles), which are often the most technologically advanced and fuel efficient.
Many of the world's major automakers have announced plans to dramatically increase production of electric vehicles or phase out gas-powered vehicles altogether by 2035. AAA Car Guide helps consumers navigate the changing automotive market by ranking and rating the newest vehicles available for sale, including alternative fuel vehicles.
For the 2022 edition of the AAA Car Guide, the 2021 Ford Mustang Mach-E Premium AWD obtained the best overall score. Researchers noted that this Mustang has a dramatic new profile, is powerful, electric, quiet, fast, spacious and fun to drive. The AAA Car Guide provides consumers with reviews highlighting the number of Advanced Driver Assistance Systems (ADAS) included in the vehicle, along with other criteria and information. All category winners for 2022 are electric, plug-in hybrid electric or hybrid vehicles. As well as being highly fuel efficient, the Winners also feature the latest advanced driver assistance systems.
In 2021, electric vehicle sales grew to nearly 477,000, representing 3.3% of total vehicle sales, but a whopping 81.5% increase over 2020 sales. Of the 62 vehicles assessed for the 2022 AAA Car Guide, six are electric.
"Electric vehicle sales, while small, are growing and signs are everywhere that the future is electric," said Megan McKernan, director of the Auto Club's automotive research center that produced the guide. "And that future could come faster as consumer preferences change due to factors like high gasoline prices and the phasing out of gasoline-powered vehicles in some regions."
The 2022 AAA Car Guide includes comprehensive reviews of each vehicle based on 12 criteria, including ADAS safety feature count, fuel efficiency, emissions, braking, handling, ride quality and acceleration. These vehicles are tested, rated and classified into one of five vehicle categories by the Automotive Research Center (ARC) of the Automobile Club of Southern California, a member of the AAA Federation of Automobile Clubs.
"Our research is designed to take the guesswork out of consumers when looking to purchase a new vehicle," McKernan said. "The AAA Car Guide is an easy-to-understand resource that can help improve consumer decisions when it comes to buying a car."
Industry analysts predict that the COVID-19 pandemic, the shortage of semiconductor chips and the proliferation of electric vehicles will affect the availability, types and prices of new and used cars in 2022. For those looking for newer used vehicles, the AAA online Car Guide website also contains links to the two previous editions in 2021 and 2020.
Each of the 2022 AAA Car Guide winners has numerous ADAS safety features and achieves high fuel efficiency by being hybrid or all-electric, generating a higher score. The highest scores categorized are:
Winners, detailed judging criteria, vehicle reviews and in-depth analysis of ADAS technology are available at aaa.com/carguide.
the AAA Car Guide also contains detailed information on recent AAA research on current automotive technologies and topics, such as Advanced Driver Assistance Systems (ADAS), fuel quality, headlight efficiency and transportation safely of a pet in the vehicle.